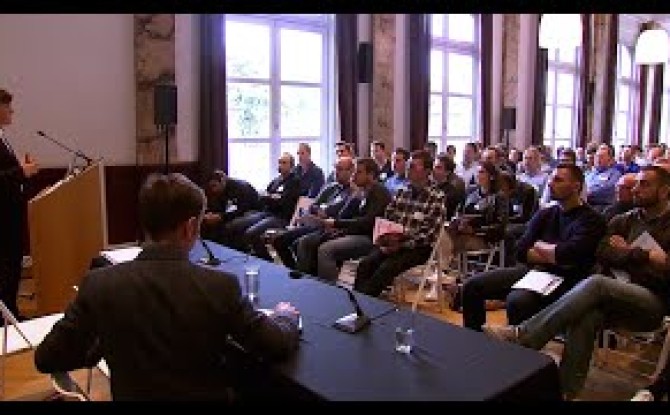 London and Stockholm seminars are offered in May about USA surrogacy options for gay couples and singles
Circle Surrogacy, one of the oldest and most experienced surrogacy agencies in the USA, is offering private consultations and informational seminars in London and Stockholm this month. The London seminar will be held at 2:30pm on May 16, and it is co-sponsored by Connecticut Fertility Associates. The seminar will feature a presentation by a lesbian surrogate mom from the USA who recently delivered a baby for a London couple, along with expert legal and medical advice, practical tips and contacts for gay and straight couples and singles. A similar seminar will be held in Stockholm on May 20, 6-8pm. Additional seminars and consultations are planned this year in Tel Aviv (June 12, in conjunction with Gay Pride), Montreal, New York, Atlanta and Madrid.
Circle Surrogacy is returning to London and Stockholm after holding six successful informational seminars in Europe and Israel over the last year. This time it will be presenting the innovative surrogacy programs it recently launched, such as "Guaranteed Baby" and more affordable surrogacy options with the use of an Egg Bank and Egg Sharing.
Circle Surrogacy has already helped bring to the world dozens of UK and Swedish babies, with just as many on the way. Many of these families will be attending reunion parties in London (also May 16) and Stockholm (May 19). The agency's philosophy is to facilitate a circle of families who help create new families. The surrogate mothers who get accepted to Circle's program are highly motivated to help prospective parents have children, and the agency assures that their spouses are also completely aboard with this endeavor. Circle is unique in its practice of also screening intended parents and making sure that they are willing to treat the egg donors (who sometimes are friends or family members) and surrogate mothers with the full respect and appreciation they deserve. Most of the people working at Circle are either parents through surrogacy, or former surrogates or egg donors themselves.
http://www.theafa.org/resources/lgbt_professional_network/all/category/attorney/
The American Fertility Association (The AFA) believes that the road to parenthood isn't always straight.
As the nation's leading patient advocacy organization, The AFA is dedicated to educating and supporting all men and women concerned with family building – including hopeful lesbian, gay, bisexual and transgender (LGBT) parents.
The AFA's LGBT Professional Network is comprised of two main sections: one for patients seeking referrals, and one for professionals with inclusive businesses that serve the LGBT community and wish to advertise those services.
For Patients:
Patients find the medical help they need in many ways, but unfortunately many lesbian, gay, bisexual and transgender (LGBT) patients still have difficulty locating health care and legal professionals that are sensitive to the special needs of the LGBT community who are seeking to build a family. To make this process easier, The American Fertility Association has developed an LGBT Professional Network.
This resource includes information about physicians, nurse practitioners, complimentary care providers, surrogacy, egg donation and sperm donation agencies, adoption agencies, lawyers, pharmacists and other professionals committed to assisting those in the LGBT community to create family and to deal with reproductive challenges. This directory will continue to grow, so please check back often!
Disclaimer
Please note that the information in this network does not constitute a recommendation to consult any specific professional. Although The AFA makes every attempt to keep the information on members accurate and up-to-date, The AFA cannot attest at all times to the accuracy and completeness of the information provided.  This information is provided for your reference, however, the responsibility for choosing a professional and checking their credentials to practice must remain that of the patient.
Attorney
Arkansas
Little Rock
Gary L. Sullivan, Esq.
Sullivan Law Firm, P.A.
400 W. Capitol Avenue
Suite 1700
Little Rock, AR 72201

Services Provided: Full service law firm working with LGBT clients in most practice areas.
Participant in Managed Care: No
Phone: (501) 374-7247
Fax: (501) 372-3482
Email: GLSullivan@aol.com
Web: http://members.aol.com/glsullivan
California
Lafayette
Diane Michelsen, Esq.
Diane Michelsen's Family Formation Law Office
3190 Old Tunnel Road
Lafayette, CA 94549

Services Provided: Family Building Attorney. Works with the LGBT community, including single parents, adoption, gestational carriers or surrogacy for LGBT couples or individuals. Adoption legal services, including matching birthmothers with adoptive parents, excluding searching out birthmoms, surrogacy (gestational IVF only). All legal work for ART including surrogacy, embryo and ovum donors, sperm donors. All legal work for adoption, including second parent, domestic partner, adult child, step parent adoptions.
Participant in Managed Care: No
Phone: (925) 945-1880
Fax: (925) 933-6807
Web: http://www.lodm.com
Los Angeles
National Fertility Law Center, Inc.
5757 Wilshire Blvd.
Suite 645
Los Angeles, CA 90036

Services Provided: Nationwide network of licensed attorneys dedicated to providing legal services in the area of assisted reproduction. Uniquely structured so that couples and individuals of any sexual orientation who are creating families through surrogacy, egg donation, and sperm donation are offered unparalleled legal expertise, regardless of their geographical location. Services include: surrogacy contracts, egg donation contracts, sperm donation contracts, parentage judgments, co-parenting agreements, co-parent adoptions, healthcare durable powers of attorney, passports for international newborns, apostilled documents, trust account management.
Participant in Managed Care: No
Phone: (800) 558-4009
Fax: (800) 507-8085
Email: info@nationalfertilitylaw.com
Web: http://www.nationalfertilitylaw.com
Woodland Hills
Jamie Stroops, Esq.
Vorzimmer Masserman
5950 Canoga Avenue
Suite 130
Woodland Hills, CA 91367

Services Provided: Helps all types of people become parents through egg donation and surrogacy. Provides a caring and compassionate approach for clients.
Participant in Managed Care: No
Phone: (818) 999-1950
Email: jstroops@vmfirm.com
Web: http://www.vmfirm.com
Connecticut
Fairfield
Victoria T. Ferrara-Loris
Law Firm of Victoria T. Ferrara, PC
2150 Post Road
Fairfield, CT 06824

Services Provided: All legal services for contractual needs in the areas of egg donation, sperm donation, and surrogacy contracts, co-parent adoption, pre-birth orders, surrogacy matching
Participant in Managed Care: No
Phone: (203) 255 9877
Email: vferrara@victoriaferrara.com
Web: http://www.assistedreproductionlaw.com
Florida
Jacksonville
Gordon T. Nicol, Esq.
Gordon T. Nicol, P.A.
8545 Centurian Parkway
Suite 108
Jacksonville, FL 32256

Services Provided: Legal services provided for Personal Injury, Family Law, Bankruptcy, Contracts, Wills & Trusts, Criminal & Traffic, Buying & Selling Real Estate, Immigration and Mediation.
Participant in Managed Care: Yes
Phone: (904) 384-4911
Fax: (904) 384-4944
Email: gordon@yourjacksonvillelawyer.com
Web: http://www.yourjacksonvillelawyer.com
Indiana
Monrovia
Steven C. Litz, Esq.
Surrogate Mothers, Inc.
P.O. Box 216
Monrovia, IN 46157

Services Provided: Surrogacy program that does not discriminate against clients based on race, marital status or sexual orientation. Provides alternatives to infertility such as surrogacy, adoption, egg donation.
Participant in Managed Care: No
Phone: (317) 996-2000
Email: scl@surrogatemothers.com
Web: http://www.surrogatemothers.com
Massachusetts
Wellesley
Amy Demma, J.D.
396 Washington Street
Suite 216
Wellesley, MA 02481

Services Provided: Counsel, guidance, advocacy regarding donor selection, matching, financials, medical/clinic and legal aspects of egg donation. Donor search, donor selection, donor matching, coordination with clinic, attorneys, escrow managers regarding all aspects of egg donation.
Participant in Managed Care: No
Phone: (781) 258-5149
Fax: (339) 686-3031
Email: amy.demma@prospectivefamilies.com
Web: http://www.prospectivefamilies.com
Minnesota
Eden Prairie
Maury D. Beaulier, Esq.
Hellmuth & Johnson, PLLC
10400 Viking Drive
Suite 500
Eden Prairie, MN 55344

Services Provided: Surrogacy agreements, adoption, cohabitation agreements, custody and parenting disputes, partition actions. Legal services for businesses, construction law, family law, criminal defense, immigration.
Participant in Managed Care: No
Phone: (612) 240-8005
Fax: (952) 941-2337
Email: maury@beaulier.com
Web: http://www.hjlawfirm.com
Maple Grove
Steven H. Snyder, Esq.
Steven H. Snyder & Associates, Attorneys at Law
11270 86th Avenue North
Maple Grove, MN 55369

Services Provided: Legal services related to ART programs in Minnesota, including drafting agreements and conducting parentage proceedings for single parents and members of the LGBT community, including second-parent adoptions, etc. Surrogate and egg donation screening and matching, including insurance review, complete program scheduling and administration, fertility clinic selection, financial administration and legal documentation.
Participant in Managed Care: No
Phone: (763) 420-6700
Email: steve@snyderlawfirm.com
Web: http://www.snyderlawfirm.com
North Carolina
Charlotte
Connie J. Vetter, Esq.
4037 E. Independence Blvd.
Suite 565
Charlotte, NC 28205-0505

Services Provided: Focus on the legal needs of LGBT community. Surrogacy agreements, adoptions, represents GC in surrogacy agreements, LGBT estate documents, parenting documents, estate planning, etc. Ninety percent of clients are LGBT.
Participant in Managed Care: No
Phone: (704) 567-5530
Email: connievetter@cjvlaw.com
Web: http://www.cjvlaw.com
Durham
Sharon Thompson, Esq.
Sharon Thompson Law Group
400 West Main Street
Suite 502
Durham, NC 27701

Services Provided: All aspects of family law, including assisted reproduction, adoption, healthcare, powers of attorney, wills & estate planning. Works with two-mom, two-dad & single parent families, in addition to traditional married families. LGBT Family Law, Adoption, Estate Probate
Participant in Managed Care: No
Phone: (919) 688-9646
Fax: (919) 683-1395
Email: stlawgroup@aol.com
Web: http://www.stlawgroup.com
Raleigh
Jeffrey G. Marsocci, Esq.
Law Offices of Jeffrey G. Marsocci, PLLC
8406 Six Forks Road
Suite 102
Raleigh, NC 27618

Services Provided: Estate and life planning, legal services for domestic partners and other non-traditional families through trusts, powers of attorney, wills, family limited partnerships and other means. Estate and trust planning, small business establishment, contracts, buy-sell agreements and other non-litigation matters.
Participant in Managed Care: No
Phone: (919) 844-7993
Web: http://www.livingtrustlawfirm.com
New Jersey
Haddon Township
Stephen J. Hyland, Esq.
Law Offices of Stephen J. Hyland
212 Haddon Avenue
Suite 1
Haddon Township, NJ 08108

Services Provided: Gay-owned practice helping same-sex couples build and secure their families through adoption, assisted reproduction, parenting agreements, judgments of parentage, estate planning, guardianship, civil unions, and related law. Member, New Jersey Civil Union Commission. Licensed to practice in New Jersey, Pennsylvania, New York and Texas.
Participant in Managed Care: No
Phone: (856) 854-7600
Email: sjh@stephenhyland.com
Web: http://www.stephenhyland.com
Park Ridge
Melissa B. Brisman, Esq.,
Melissa B. Brisman, Esq., LLC
77 Market Street
2nd Floor
Park Ridge, NJ 07656

Services Provided: Works with same-sex, single and heterosexuals on adoptions, 2nd parent and co-parent adoptions, birth orders, insurance reviews and appeals. Locate egg donors and gestational carriers; egg, sperm and embryo donation, gestational carrier contracts, organize homestudies and criminal background checks, name changes and escrow account services.
Participant in Managed Care: No
Phone: (201) 505-0078
Fax: (201) 505-1994
Email: melissab@reproductivelawyer.com
Web: http://www.reproductivelawyer.com
New Mexico
Santa Fe
Ami Jaeger
Biolaw Group, LLC
7 Avenue Vista Grande
Suite 205
Santa Fe, NM 87508

Services Provided: Does not discriminate based on any orientation, religion, ethnicity, etc. Known donor, anonymous donor, gc and surrogacy arrangements, finalization of birth certificates, consulting and advice of legal issues on ART, adoption, step-parent adoption, insurance coverage questions.
Participant in Managed Care: No
Phone: (505) 466-4642
Fax: (505) 466-2818
Email: asj@bio-law.com
Web: http://www.bio-law.com
New York
Rockville Centre and New York City
Anthony M. Brown, Esq.
Albert W. Chianese & Associates, PC
100 Merrick rd., Ste. 103E
Rockville Centre, NY 11570

122 E. 42nd St., Ste. 3900, New York, NY 10168

Services Provided: Trusts. estates and family law for nontraditional families. Wills, trusts, second parent adoption, partnership agreements, parenting agreements, dispute resolution and donor counseling (legal).
Participant in Managed Care: No
Phone: (516) 599-2020
Fax: (516) 599-6476
Email: brown@awclawyer.com
Web: http://www.timeforfamilies.com
Nanuet
Laurie B. Goldheim, Esq.
Law Offices of Laurie B. Goldheim
20 Old Nyack Turnpike
Suite 300
Nanuet, NY 10954

Services Provided: Represents single couples, couples (heterosexual and homosexual) in private domestic adoption.
Participant in Managed Care: No
Phone: (845) 624-2727
Fax: (845) 624-8400
Email: lgoldheim@adoptionrights.com
Web: http://www.adoptionrights.com
Rochester
Lawrence Krieger, Esq.
The Wilder Building
8 Exchange Blvd.
Suite 400
Rochester, NY 14614

Services Provided: Co-parenting agreements, fertility related family law, second parent adoption, gay friendly general practice of law, domestic partnership planning.
Participant in Managed Care: No
Phone: (585) 325-2640
Fax: (585) 325-1946
Email: larry@kriegerlaw.net
Web: http://www.kriegerlaw.net
Rye Brook
Michael S. Goldstein, Esq.
Michael S. Goldstein, P.C.
62 Bowman Avenue
Rye Brook, NY 10573

Services Provided: Single, dual and second parent adoptions. Domestic, agency, international, readoption and foster care.
Participant in Managed Care: No
Phone: (914) 939-1111
Fax: (914) 939-2369
Email: info@adoptgold.com
Web: http://www.adoptgold.com
Yorktown Heights
Denise Seidelman, Esq.
Rumbold & Seidelman
1145 Baldwin Road
Yorktown Heights, NY 10598

Services Provided: Adoption – for both single parents and same sex couples, second parent adoptions, egg donation agreements, sperm donor agreements, reproductive law
Participant in Managed Care: No
Phone: (914) 962-3001
Fax: (914) 962-1707
Email: dseidelman@adoptionlawny.com
Web: http://www.adoptionlawny.com
Pennsylvania
Allentown
Kate Lynn, Esq.
Law Offices of Kate Lynn, P.C.
The Sovereign Building
609 Hamilton Mall
Suite 1
Allentown, PA 18101-2111

Services Provided: Second parent adoption, LGBT estate planning (wills, trusts, powers of attorney, living wills), living together contracts & separation agreements. Full service lesbian-owned law firm.
Participant in Managed Care: No
Phone: (610) 435-7770
Fax: (610) 419-4699
Email: kate@katelynnlaw.com
Web: http://www.katelynnlaw.com
Philadelphia
Tiffany L. Palmer, Esq.
Jerner & Palmer, P.C.
5401 Wissahickon Avenue
Philadelphia, PA 19144

Services Provided: Assisted reproductive technology law, LGBT family law, adoption, estate planning for LGBT families.
Participant in Managed Care: No
Phone: (215) 843-6000
Fax: (215) 843-6006
Email: tpalmer@jplaw.com
Web: http://www.jplaw.com
Tennessee
Brentwood
Julia J. Tate, J.D., L.C.S.W.
5606 Cloverland Drive, #107
Brentwood, TN 37027

Services Provided: Provides legal services to people forming families through ART and those assisting them. Works with egg donors, surrogates, and intended parents. Clients include married couples, single people, as well as gay and lesbian couples and individuals.
Participant in Managed Care: No
Phone: (615) 783-2892
Email: Julia@TNBabyLaw.com
Web: http://TnBabyLaw.com
Kingsport
Elizabeth L. McConnell, Esq.
Elizabeth L. McConnell Attorney At Law
222 1/2 E. Center Street
P.O. Box 85
Kingsport, TN 37662

Services Provided: Any and all aspects of general civil practice. Helps many gay and lesbian couples with wills, general durable powers of attorney, guardianships, long wills, social security and SSI, partnership agreements and dissolution of same, etc. Name changes for transgendered clients.
Participant in Managed Care: No
Phone: (423) 246-4416
Email: EMcConnellLaw@aol.com
Texas
Carrollton
Arthur H. Geffen, Esq.
1620 East Beltline Road
Carrollton, TX 75006

Services Provided: Business organizations, estate planning, tax
Participant in Managed Care: No
Phone: (972) 242-8887
Fax: (972) 446-7976
Email: ageffen@iadfw.net
Virginia
Fairfax
Sheri Abrams, Esq.
Sheri R. Abrams, Attorney at Law
10467 White Granite Drive
Suite 360
Oakton, VA 22124
Services Provided: Social Security Disability Law, Special Needs Planning, Elder Law, Estate Planning, Special Needs Trusts, Guardianship, Wills, Trusts, Powers of Attorney
Participant in Managed Care: No
Phone: 571-328-5795
Fax:
Email: sheri@sheriabrams.com
Web: http://www.sheriabrams.com