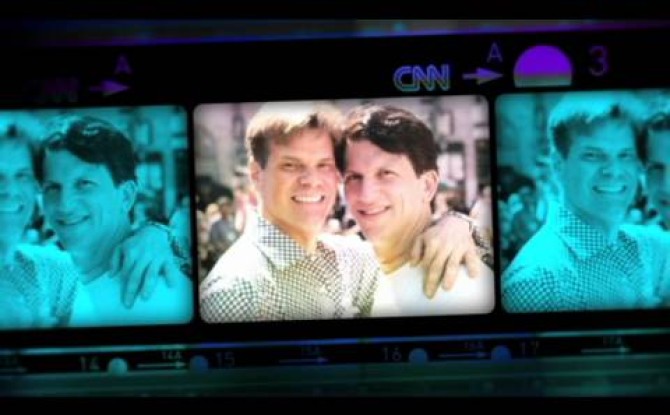 In America: 'Gary and Tony Have a Baby'
In America: Gary and Tony Have a Baby aired on CNN five years ago.  It is hard to imagine that so much time has passed, and I am honored that the story of my family was shared with so many people.
The documentary represents the face of my new initiative, In America with Soledad O'Brien. The idea is to do in-depth stories about communities whose voices often get lost in the cacophony of daily newsgathering. The concept was born with Black in America about 2 years ago as a 2 day, 4-hour documentary surveying the black community. We had trouble representing everyone because the community was so vast. So we are now on Black in America 3. With "In America: Gary and Tony Have a Baby," we are trying out a new concept. That documentary is a one-hour tightly focused look at the journey of two people, a way for viewers to watch a human drama unfold organically rather than experience communities as issues or topics of debate. It is part of a larger Gay in America initiative that includes stories about black lesbians marrying in their Washington church, gay teens in Mississippi trying to stem violence in their schools and Atlanta gay families talking about how they had their children.
Tony, and his partner, Gary Spino, would sound very much like any couple if it wasn't for the obstacles they face. They have spent a small fortune on lawyers and social workers and doctors trying to make their family. Their son is the product of Gary's sperm and an egg donated by a woman they met through an agency. A surrogate carried the baby. They went to court to do a second-parent adoption which makes Tony the legal second parent of Gary's biological son. Since they are two men, they cannot get married in the U.S. So they now both have a legal relationship to their son but no relationship to each other in the eyes of the federal government. This is the face of Gay in America today.
Tony and I are in LA to do a premiere screening of the documentary. The Gay Lesbian Alliance Against Defamation (GLAAD) has gathered about a hundred members of its community to see what we've produced. The discussion moves quickly past the story of these two men, which is exactly what we want. Jarrett Barrios, GLAAD's director, talks about how he came out many years ago, fought for and won the right to have a state marriage in Massachusetts where he lives. He thought he'd made his world a more welcoming place. What he didn't count on was that his adopted teenage sons would have to fight the same battle all over again, even though they are not gay. One of his sons recently started dating but didn't want to bring his girlfriend home to meet his fathers. He realized that his son had to come out just like he had. He had the discomfort of revealing he has gay parents.

Who am I? On the deepest level, I am blessed. I have an amazing partner, who I have known since 1989 and been married to since 2004. I am the donor dad of two beautiful daughters who have two moms who are equally amazing. My husband and I have expanded our family through surrogacy and have a seven-year old son. I have had three careers (acting, massage therapy and the law) and I am still discovering myself. I am the Board Chair of Men Having Babies. The one thing I know for sure is that life is about trusting your instincts. Family is an instinct.

Latest posts by Anthony Brown (see all)