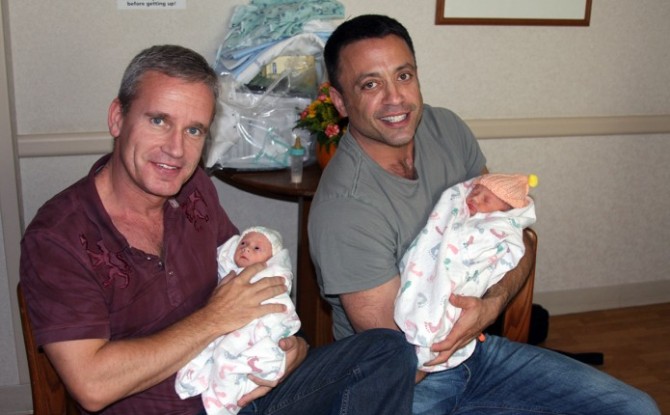 HIV Positive Dads Follow Their Family Dream
These HIV positive dads fathered children. Science has come a along way to help HIV+ dads have families of their own.
Aslan always believed he would be a father—if not with a partner, then by teaming up with one of his straight, single female friends. But "at the age of 36, I became infected with the [HIV] virus," he said. "I thought my whole world collapsed. Everything crashed with that. I believed that there would be no child." He was gay and single, living in a cosmopolitan city in his southern European country, when a female friend asked him to pair up to make a baby. He had heard that it could be done safely, but when he told her his HIV status, her reaction, he said somewhat morosely, was "very naturally, not very brave." Unwilling to face that rejection again, he spent years trying to bury his profound desire become one of many HIV positive dads.
Things were different for Brian Rosenberg and Ferd van Gameren, who were already in their forties by the time they began thinking about having kids. Their early years together focused on keeping Brian, who is HIV+, healthy and Ferd negative. But once protease inhibitors emerged and Brian's health was stable, the couple decided to focus on enjoying life. They moved from Boston into a one-bedroom Chelsea co-op in New York City, started summering in Fire Island, and hopped around their friends' parties having "a gay old time," as Brian put it.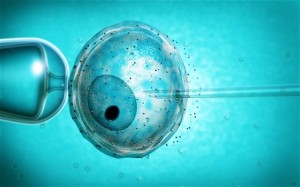 After several years, though, all that began to pale. "We started thinking that life had to be more meaningful for us than the next party, the next fabulous vacation." They wanted a family, and all the responsibility, love, and exhaustion that went with it. They tried adoption first, but when one birthmother backed away, their hearts were broken–so they discussed surrogacy. Given his HIV status, Brian assumed that Ferd would be the biological dad–but Ferd wanted to raise Brian's bio children. And so in 2009 Ferd went online and found the Special Program for Assisted Reproduction, or SPAR, dedicated to helping HIV-positive men father children safely. The program is run by the Bedford Research Foundation and its director Dr. Ann Kiessling.
Back in southern Europe, by 2011, Aslan was learning about the same option. He was seven months into a new relationship that seemed as if it would stick—and despite himself, he began to imagine having a family with this man. Coincidentally, an American friend forwarded him an article about Circle Surrogacy, which worked with HIV-positive gay men in the States. "And it gave me, like, a wow, big hope, a new window to plan my life again!" Aslan quickly contacted Circle Surrogacy, which connected him with Dr. Ann Kiessling. "She was very kind and explained all the procedures, that it's completely safe. And this was the start."
But how can HIV positive dads father children?
"How" has both a practical and a technical answer. This article will tell you the practical steps to take, one by one, with some technical information mixed in along the way. Experts agree that it can be done safely. According to Dr. Brian Berger of Boston IVF, over the past 15 years fertility centers have helped conceive thousands of babies fathered by HIV-positive men—and not a single woman or child has been infected as a result.
So how can an HIV-positive gay man become a biological father? Let's look at the process, step by step.That's because, apparently, HIV cannot attach to or infect spermatozoa—the single-cell swimmers that deliver chromosomes to an egg. Sometimes the surrounding fluid—the semen, the ejaculate that carries the sperm along, and which is made separately—does include HIV. But sperm is made only in the testes, which are walled off from the rest of the body, heavily fortified against the illnesses or infections that might affect the rest of the body, for obvious evolutionary reasons. Because sperm doesn't get mixed with semen until the very last moment, at ejaculation, it remains safe. And after decades of research, the medical profession has figured out how to use only the uninfected sperm to fertilize an egg.
Step 1: Make sure dad is healthy. 
The first, and most important, step is to ensure that the prospective dad is healthy—that his HIV levels are undetectable or nearly so, his T-cell count is high, he's free of other complications or infections, and he is working closely with a doctor to stay in good health. Says Dr. Bisher Akil, a New York City physician who specializes in caring for HIV-positive patients, "Can HIV positve dads become parents? The answer in 2014 is absolutely yes." In 2014, no one should use his HIV infection to stop from having a full and normal life, he emphasizes. "The only point I make to potential fathers is that they need to take care of themselves and make sure they have their infection under control. The occasional medical problem that might appear, whether or not related to HIV, needs to be treated very aggressively. They need to be compliant with medications and treatment. That's not any different from any father with a chronic illness. Now that they have responsibility of having a child, we want to take them through their lives."
Click here to read the entire article.
April 5, 2016 via gayswithkids.com

Who am I? On the deepest level, I am blessed. I have an amazing partner, who I have known since 1989 and been married to since 2004. I am the donor dad of two beautiful daughters who have two moms who are equally amazing. My husband and I have expanded our family through surrogacy and have a seven-year old son. I have had three careers (acting, massage therapy and the law) and I am still discovering myself. I am the Board Chair of Men Having Babies. The one thing I know for sure is that life is about trusting your instincts. Family is an instinct.

Latest posts by Anthony Brown (see all)