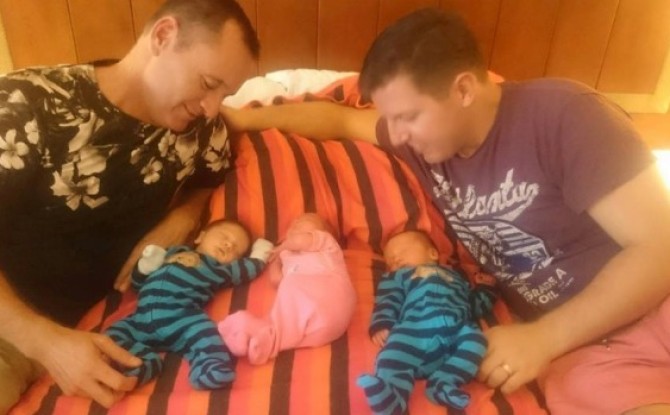 Kiwi dads speak out from Mexico – Their Story
Meet Lachlan, Kelly and Blake: the newborns who are about to find themselves at the center of an international legal storm.
The "triplings" were born to surrogate mums in Mexico, in an arrangement with their Auckland parents, David and Nicky Beard, and an Argentinian egg donor.
Kiwi dads, the Beards have now decided to publicly identify themselves on Stuff, to raise awareness of their battle. They believe they were the last gay couple allowed to use international surrogates to give birth to their children, as Mexico tightens its IVF laws to bring them in line with most other nations.
David Beard, 41, the biological dad, is a prominent lawyer and the owner of Auckland law firm LegalStreet. His husband Nicky Leonard Beard, 32, is originally from Ireland. The couple issued a simple plea early on Tuesday morning: "David, Nicky, Lachlan, Blake and Kelly simply want to come home to their family."
Speaking openly early on Tuesday, David Beard shared his emotions at becoming a father.
"I cannot describe the feeling. It was beautiful. It was instant love and caring, like a lion with its cubs, I looked at them and could not believe that they had come from me.
"I looked at their eyes and their faces and I cried. I only cry when I am happy – which is weird in itself! They are beautiful, and no matter how smelly the nappies are, they are still beautiful."
The couple desperately wanted to get their children home from Villahermosa. They were pleading for help from friends and family around the world but, most of all, from the New Zealand and Mexican governments.
Click here to read the entire article.
by JONATHAN MILNE, NICOLE LAWTON AND ANNA BURNS-FRANCIS – Stuff.co.nz March 29, 2016

Who am I? On the deepest level, I am blessed. I have an amazing partner, who I have known since 1989 and been married to since 2004. I am the donor dad of two beautiful daughters who have two moms who are equally amazing. My husband and I have expanded our family through surrogacy and have a seven-year old son. I have had three careers (acting, massage therapy and the law) and I am still discovering myself. I am the Board Chair of Men Having Babies. The one thing I know for sure is that life is about trusting your instincts. Family is an instinct.

Latest posts by Anthony Brown (see all)