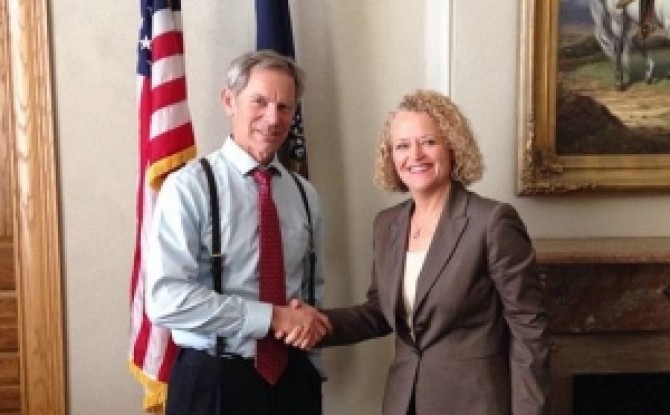 New Openly Gay Mayor, takes office in Salt Lake City
Biskupski, Salt Lake City's New Openly Gay Mayor, takes office, pledges to build a more 'inclusive' city
Biskupski's historic election, as the city's first openly gay mayor, was met with warm reception on a brisk Monday afternoon. A crowd of about 500 welcomed her with a standing ovation after she took the oath of office on the steps of the Salt Lake City-County Building.
Biskupski's fiancee, Becky Iverson, stood at the new mayor's side as she was sworn in by Salt Lake County presiding Judge Shauna Graves-Robertson.
Following the ceremony, Biskupski said she's committed to "building an inclusive and welcoming" Salt Lake City by improving air quality, welcoming businesses, creating opportunity for people from all walks of life, and rooting out crime and homelessness.
"The people of this city are why I ran my first race," Biskupski said, referencing her unsuccessful bid for Salt Lake City Council in 1997. "And you are why I am standing here today. It is for you that I will work every day to build a city for everyone."
Jackie Biskupski was sworn into office Monday, becoming Salt Lake City's 35th mayor.
Biskupski was joined by members of the Salt Lake City Council, including Derek Kitchen and Andrew Johnston, who were also sworn into office for the first time Monday, and Charlie Luke, who begins a second term on the council.
Kitchen and Johnston replace former councilmen Luke Garrott and Kyle LaMalfa. Garrott ran an unsuccessful campaign for mayor, while LaMalfa did not seek re-election.
Former Mayor Ralph Becker watched from the crowd of onlookers as the new elected officials were sworn in. Becker served as mayor of Utah's capital city for eight years before falling less than 1,200 votes short in his bid for a third term.
Click here to read the entire article.
By Katie McKeller, Deseret News, January 4, 2016
SALT LAKE CITY —

Who am I? On the deepest level, I am blessed. I have an amazing partner, who I have known since 1989 and been married to since 2004. I am the donor dad of two beautiful daughters who have two moms who are equally amazing. My husband and I have expanded our family through surrogacy and have a seven-year old son. I have had three careers (acting, massage therapy and the law) and I am still discovering myself. I am the Board Chair of Men Having Babies. The one thing I know for sure is that life is about trusting your instincts. Family is an instinct.

Latest posts by Anthony Brown (see all)