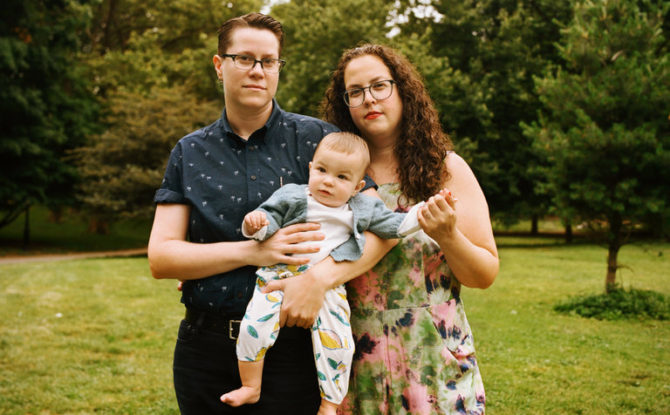 At gay pride marches around the country this month, there will be celebrations of marriage, a national right that, at just two years old, feels freshly exuberant to many lesbian, gay, bisexual and transgender Americans.
But while questions of marriage are largely settled, same sex parents still face a patchwork of laws around the country that define who is and who can be a parent. This introduces a rash of complications about where L.G.B.T.Q. couples may want to live and how they form their families, an array of uncertainties straight couples do not have to think about.
"There are very different laws from state to state in terms of how parents are protected, especially if they're unmarried," said Cathy Sakimura, deputy director and family law director at the National Center for Lesbian Rights. "You can be completely respected and protected as a family in one state and be a complete legal stranger to your children in another. To know that you could drive into another state and not be considered a parent anymore, that's a pretty terrifying situation."
Adoption laws, for example, can be extremely contradictory. In some states, like Maryland and Massachusetts, adoption agencies are expressly prohibited from discriminating based on sexual orientation. At the same time, other states, like South Dakota, have laws that create religious exemptions for adoption providers, allowing agencies to refuse to place children in circumstances that violate the groups' religious beliefs.
Alan Solano, a state senator in South Dakota, sponsored his state's adoption legislation. He said he was concerned that if those groups were forced to let certain families adopt, they might get out of the adoption business entirely, shrinking the number of placement agencies in the state.
"I wanted to ensure that we have the greatest number of providers that are working on placing children," Mr. Solano said. "I'm not coming out and saying that somebody in the L.G.B.T. community should not be eligible for getting a child placed with them. What I hope is that we have organizations out there that are ready and willing to assist them in doing these adoptions."
But as a practical matter, lawyers who specialize in L.G.B.T.Q. family law say that in some areas, religiously affiliated adoption organizations are the only ones within a reasonable distance. Moreover, they say, such laws harm children who need homes by narrowing the pool of people who can adopt them, and they are discriminatory.
"There is a very serious hurt caused when you're told, 'No, we don't serve your kind here,' and I think that gets lost in the public discourse a lot," said Susan Sommer, director of constitutional litigation for Lambda Legal. "There's just this narrative that absolutely ignores, and almost dehumanizes, L.G.B.T. people. They're missing from the equation here."
There are a number of laws that can affect L.G.B.T.Q. families, from restrictions on surrogacy to custody, and the landscape is constantly shifting.
by Elizabeth A. Harris, New York Times – June 20, 2017
Click here to read the entire article.