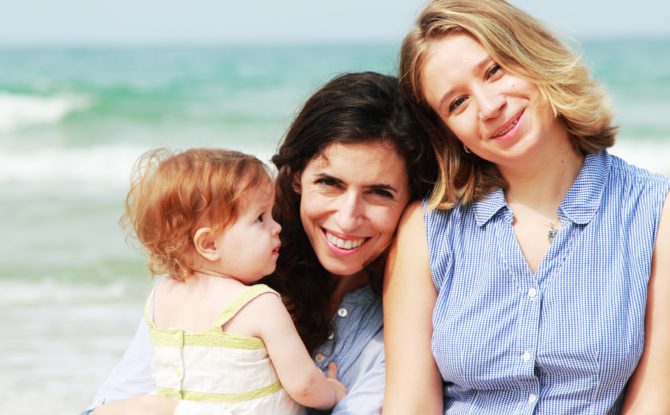 You may think your question is innocent enough, but here's why these inquiries are insensitive toward lesbian moms.
When my partner and I started telling our friends and families that we were going to have a baby, everyone was happy and excited for us. We were the only same-sex couple in our extended family and in our immediate circle of friends, as is often the case with gay people, so everyone had a lot of questions. Although people asked really insightful and thoughtful questions about our future family, we also heard some that left us scratching our heads. Here are the 10 questions, on behalf of all lesbian moms, I hope I never have to answer again, and the reasons why.
1. Which one of you is the mother?
We both are! Lesbain moms are both parents and we're both women, so we're both mothers; more than that, we're both equally responsible for our child's well-being, safety, and education.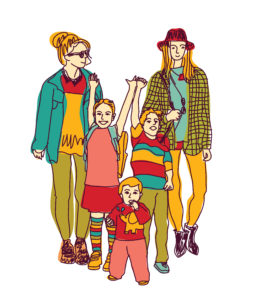 In our case, my partner and I were together for four years before we had our son. We wanted to have a baby together. Together we dreamed about what our baby would look like, how we wanted to raise him, and what we hoped to teach him. We were both in the room the day he was born, we both signed his birth certificate, and we're both committed to him for the rest of our lives.
2. Who's the biological mother?
This is a slightly different question and, in a way, it's correct and clinical. But don't ask about a biological mother because she may not be in the family. The child may have been adopted, or one of the mothers may have carried the baby while the other contributed the egg.
The question is also off-limits because it can imply some quality of mothering: that the mother who gave birth is more of a mother. When our son was 6 months old, I went to a new physician for my annual exam. At the time, my partner was staying home with our son while I worked full-time. I did the night shift to give her a break, which meant I'd wake up with the baby every few hours. I told the doctor I'd been very tired and I felt like the exhaustion was affecting the quality of the time I was spending with my son. She asked me if I'd given birth to him and when I said no, she nodded knowingly. She implied that I just felt disengaged because I wasn't bonding with my son as much as my partner. I mentally tore up her entire exam room, Godzilla-style. You may have the best intentions asking this question, but please understand why a nonbiological mother might feel a little bit defensive about answering it.
3. Where did you get the sperm?
Obviously, no lesbian couple is delusional enough to think that people assume they made a baby together. If there was a pregnancy in the family, most certainly sperm was involved and it didn't come from one of the mothers. But even if you know the couple very well, this question is still a touchy subject. Maybe the sperm is from someone you also know or maybe it just feels too weird to name the sperm bank, but mostly, it's nobody's business.
4. Is the dad in your child's life?
Well, simply put, there is no dad. A dad is a parent, someone who's as worn out as us from pretending to be Team Umizoomi characters for hours on end (at the moment, my partner and I are under strict instructions to refer to each other as Bot and Geo). If a male friend used a sperm donor because he couldn't have children biologically, we wouldn't ask him or his wife if "the dad" were involved. We'd be clear on who the dad is. I think it's the same for lesbian couples: We make a strict distinction between a parent and a donor.
5. What do you know about the sperm donor?
Unless the parents initiate telling you details about the donor, don't ask this question. Nothing matters about the donor. You have to trust that the parents have checked his health history and whatever else is important to them. The answer to this question will never be, "Well, he's of average intelligence, he said his biggest hobby is napping, and he donates sperm for pocket money." Choosing a sperm donor was the most nerve-racking, weird, incongruous, depressing, exhilarating, and hope-filled decision we ever made. Sperm donors are tested for diseases and genetic conditions, and because he won't be a parent, his hobbies, weight, and employment status don't matter. We've chosen not to share details about the donor with anyone until our son knows those details himself. It's his private information.
More Off-Limits Questions
6. Isn't your child confused about what to call you?
This is actually a good question, but there's a better way to ask it. How about, "What does he call each mom?" When our son was born, we couldn't decide what we wanted to be called. We really didn't know if it was feasible to wait until he was old enough to pick his own names for us. But one day he started calling me "Meme" and my partner "Mama." These were his names for us, and he chose them with no input (believe me, I would've picked something hipper than Meme.) He's never confused because the concept of having two moms hasn't even entered his mind yet. He sees us as two different parents: one Mama and one Meme.
7. Doesn't your child miss out on doing "dad" things, like playing ball and using tools?
We try to expose our son to as many things as we can, which includes activities that are stereotypically male, but our son sets the direction of his interests. We don't make him play with the toys we loved as kids (and I don't open the back door and tell him to "come back when the streetlights come on," like my mother did). He asks to watch construction site videos on YouTube. He loves trains, so we've all learned the names of every train on the Island of Sodor — every single one.
By L.A. Pintea – Parents.com