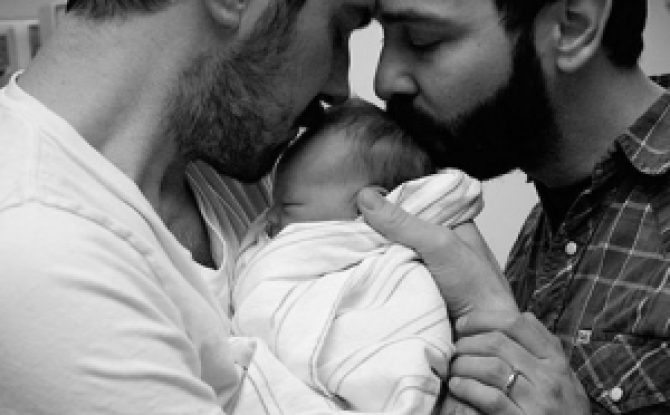 5 Things This New Gay Dad Was Not Prepared For
The Handsome Father – March 26, 2015 by Scott Ballum Cohen
We welcomed our gorgeous, bright-eyed daughter six weeks ago. We had driven to Massachusetts a week before the due date to get ahead of an impending blizzard, and to wait. On a Saturday night five days later, our surrogate mother — a remarkable and generous relative — told us that the baby would come in the morning, so we should all get to sleep. We arose at six, took showers and a quick breakfast, and drove to the hospital. Our 'Little Bear' was born four hours later. It was the most civilized birthing story I'd ever heard of.
It was a moment no amount of planning could have prepared us for. Upon reflection, I can think of five other surprises my husband and I experienced in the weeks before and after the arrival of our baby girl, and a few things I learned: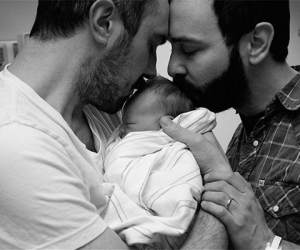 1. The Other Big Decisions
Most of the research we had done, and the topic of most conversations at the group meetings we had attended, was about the logistics and options for having a baby and protecting our future family's legal standings. But how to go about "getting pregnant" was only the first of many big decisions to make. Of course, at the start, this is the only one that matters. What I didn't see coming, though, was the litany of big decisions that then had to be made – that really had nothing to do with how gay we were (mostly) and everything to do with the fact that we were about to become parents.
What kind of formula were we going to feed the baby? Organic? Ready-to-feed? Powdered? Something we could buy off the shelf locally, or that we had to order online from New Zealand? What about Diapers? All the charts show how much we would save over her early years by using cloth – but realistically we knew we needed to consider disposables, too. Which meant two separate research projects to determine what brands and styles we wanted to try. Same with bottles, lotions, clothes(!), cribs and crib sheets, nail clippers, and burp cloths. Don't even get started on vaccines.
My lesson: I relied heavily on The NightLight for product reviews, and Reading My Tea Leaves for simple and natural essentials. Hand-me-downs were a mixed blessing, but we found some of the unlikeliest to be the most useful. The proprietor at our local baby shop patiently explained the ins-and-outs of cloth diapering to me on at least four separate occasions.
2. The Clumsiness of Baby Showers
We were lucky enough to have two friends in two cities offer to host baby showers for us. Given that we had already moved (which meant housewarming gifts) and got married (meaning wedding gifts) this year, I was reluctant to presume that anyone wanted to be given another shopping list for us — but family and friends insisted, so (following the stress of decision making above) we pulled together a thoughtful registry and handed over the email addresses of our close friends and family. The events were lovely and sweet, and we are so appreciative — but they truly were awkward for us. So awkward that we didn't even open the presents until everyone left at the first shower, which was obviously a faux pas. Opening gifts at the second shower felt like Christmas — except it was Christmas only for us and no one else in the room; not quite a Birthday Party, either, because we were cautiously celebrating something that hadn't happened yet. Yikes. My husband was so sure that we would receive everything we needed off our registry. That proved to be a silly assumption.
The only thing that wasn't clumsy, surprisingly, was having our surrogate at our baby shower. We wondered if there would be a strange tension over who in the room we were celebrating. Seriously, no one was confused.
My lesson: In hindsight, I would have preferred gift-free showers. I ended up using My Registry as my own shopping list, but prices and availability changed between the time I listed them and when I went back to buy them. I wish I had just bought the things I knew I was going to need or really loved. My suggestion is that if grandparents want to gift you the crib or rocking chair or that adorable aviator hat with little bear ears, see if they'll mind reimbursing you.
3. The Kindness of the Hospital Staff
June was born at a city hospital in Massachusetts, which meant that they had seen a lot of things, and that we certainly weren't the most unusual situation to come through. But it also meant there was a 'rough around the edges' element to the facility. It was a Catholic hospital, at least theoretically, but one where our surrogate's own children had been born. We weren't sure how we'd be welcomed.
I started calling the hospital social worker and attending nurse months in advance, so I knew from the beginning that they were on board. "How can we make this the most positive birthing experience for all of you?" one asked on our first call. We talked through a birth plan, and I was feeling quite positive.
Then the hospital attorneys got involved, and suddenly we were a liability. We weren't going to be allowed to leave with our new baby until after the four-day required waiting period after which our surrogate could relinquish her maternal rights. Our lawyer was furious; their lawyer threatened to call social services. This was all hard news – but to be frank, this is the kind of attitude life had prepared us for. What we actually faced at the hospital before, during, and after the birth, though, was far more shocking. We were welcomed into the birthing room, doted on as new parents, given our own suite on the maternity floor, and treated with utmost respect. Delivery nurses came to find us to thank us for the opportunity to be part of our story. After days of seeing us handle baby June, the cleaning crews and food service staff came back in to tell us they found us inspiring, and that the amount of love in our room was remarkable, "even after working here a long time." In a hospital that often sees young or unwed mothers, reluctant fathers, or worse, the joy in our family was very welcome. "They aren't all good days," one delivery nurse told us. "Today was a good day."
My lesson: Allies are often where we least expect them. We had also received some sage advice to not let the inevitable stressful moments or unsupportive individuals take our focus off of the joy of those days. I am so glad we heeded that advice.
Click here to read the entire article.

Who am I? On the deepest level, I am blessed. I have an amazing partner, who I have known since 1989 and been married to since 2004. I am the donor dad of two beautiful daughters who have two moms who are equally amazing. My husband and I have expanded our family through surrogacy and have a seven-year old son. I have had three careers (acting, massage therapy and the law) and I am still discovering myself. I am the Board Chair of Men Having Babies. The one thing I know for sure is that life is about trusting your instincts. Family is an instinct.

Latest posts by Anthony Brown (see all)