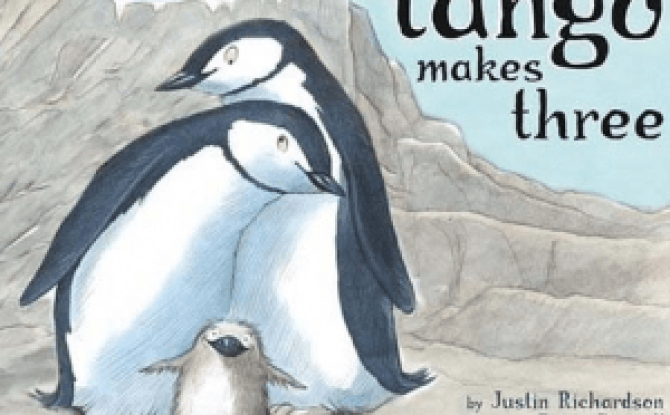 5th Grader's Delightful Review of "And Tango Makes Three"
Via Mombian.com – March 11, 2015
Fifth grader Zoe, at her blog Kids' Animal Station, has written a terrific review of And Tango Makes Three, the lovely picture book about two male penguins who raise a chick together.
Zoe started her blog in 2012, and bills it as, "For kids who love animals by a kid who loves animals." The face that Tango is about "cute waddling penguins" qualifies it for coverage—but Zoe's love for the book goes beyond just that. She explains:
This book has a particular soft spot in my heart, considering I know many people who are within the LGBT community, so this book was one of the first times I actually got a chance to learn about it, since you don't really get to learn about LGBT people and things like that at the age this book is targeted to.
She adds a touch of humor, noting that when it comes to the acronym LGBT, "half the kids in my school think it's a sandwich."
Then she calls for more books like Tango:
What everyone can take away from this book is that families come in all sorts of ways, which is a lesson a bunch of the kids at my school don't seem to know. . . . It would be better if more books like this were around, because I have noticed that the books you read when you are really young greatly impact your later years,
Click here to read the entire article.

Who am I? On the deepest level, I am blessed. I have an amazing partner, who I have known since 1989 and been married to since 2004. I am the donor dad of two beautiful daughters who have two moms who are equally amazing. My husband and I have expanded our family through surrogacy and have a seven-year old son. I have had three careers (acting, massage therapy and the law) and I am still discovering myself. I am the Board Chair of Men Having Babies. The one thing I know for sure is that life is about trusting your instincts. Family is an instinct.

Latest posts by Anthony Brown (see all)