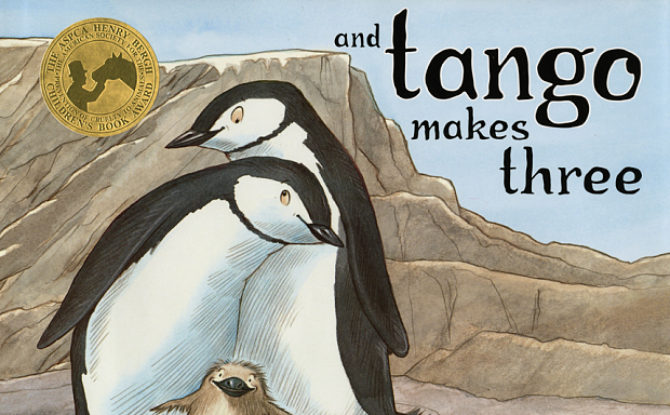 Children's Books To Help Discuss Gender and Being Different With Your Kids
We are republishing Stephen's list of good children's books dealing with being different, gender, and trans people. Reading them with your kids could be a great starting point for conversations in your family about these topics.
In Stephen's words, "When we start to break it down, the easiest way to talk to your children about trans people is just to make space to talk about gender, early and often. The more we as a community normalize openness and honesty around gender and trans experience, the more space we make in the world for families like mine to feel safe, welcome and celebrated."
I Am Jazz
 – Jessica Herthel
The story of a transgender child based on the real-life experience of Jazz Jennings, who has become a spokesperson for transkids everywhere
"This is an essential tool for parents and teachers to share with children whether those kids identify as trans or not. I wish I had had a book like this when I was a kid struggling with gender identity questions. I found it deeply moving in its simplicity and honesty." — Laverne Cox (who plays Sophia in "Orange Is the New Black")
From the time she was two years old, Jazz knew that she had a girl's brain in a boy's body. She loved pink and dressing up as a mermaid and didn't feel like herself in boys' clothing. This confused her family, until they took her to a doctor who said that Jazz was transgender and that she was born that way. Jazz's story is based on her real-life experience and she tells it in a simple, clear way that will be appreciated by picture book readers, their parents, and teachers.
My Princess Boy
 – Cheryl Kilodavis
Dyson loves pink, sparkly things. Sometimes he wears dresses. Sometimes he wears jeans. He likes to wear his princess tiara, even when climbing trees. He's a Princess Boy.
Inspired by the author's son, and by her own initial struggles to understand, this is a heart-warming book about unconditional love and one remarkable family. It is also a call for tolerance and an end to bullying and judgments. The world is a brighter place when we accept everyone for who they are.
10,000 Dresses
 – Marcus Ewert
Every night, Bailey dreams about magical dresses: dresses made of crystals and rainbows, dresses made of flowers, dresses made of windows … Unfortunately, when Bailey's awake, no one wants to hear about these beautiful dreams. Quite the contrary. "You're a BOY!" Mother and Father tell Bailey. "You shouldn't be thinking about dresses at all." Then Bailey meets Laurel, an older girl who is touched and inspired by Bailey's imagination and courage. In friendship, the two of them begin making dresses together. And Bailey's dreams come true!
This gorgeous picture book — a modern fairy tale about becoming the person you feel you are inside — will delight people of all ages.
Red: A Crayon's Story
 – Michael Hall
A blue crayon mistakenly labeled as "red" suffers an identity crisis in the new picture book by the New York Times-bestselling creator of "My Heart Is Like a Zoo" and "It's an Orange Aardvark!" Funny, insightful, and colorful, "Red: A Crayon's Story," by Michael Hall, is about being true to your inner self and following your own path despite obstacles that may come your way. "Red" will appeal to fans of Lois Ehlers, Eric Carle, and "The Day the Crayons Quit," and makes a great gift for readers of any age!
Red has a bright red label, but he is, in fact, blue. His teacher tries to help him be red (let's draw strawberries!), his mother tries to help him be red by sending him out on a playdate with a yellow classmate (go draw a nice orange!), and the scissors try to help him be red by snipping his label so that he has room to breathe. But Red is miserable. He just can't be red, no matter how hard he tries! Finally, a brand-new friend offers a brand-new perspective, and Red discovers what readers have known all along. He's blue! This funny, heartwarming, colorful picture book about finding the courage to be true to your inner self can be read on multiple levels, and it offers something for everyone!
Jacob's New Dress
 – Sarah Hoffman
Jacob loves playing dress-up, when he can be anything he wants to be. Some kids at school say he can't wear "girl" clothes, but Jacob wants to wear a dress to school. Can he convince his parents to let him wear what he wants? This heartwarming story speaks to the unique challenges faced by boys who don't identify with traditional gender roles.
Meet Polkadot (The Polkadot Series Book 1)
 – Talcott Broached
Have you been looking for a story with which to begin and/or continue meaningful and accurate conversations about gender identity?
Perhaps you wish to have dialogues that center and normalize transgender identities but you feel worried you may not have accurate information?
Maybe you ARE trans or you have a child/family member who is trans and you are ready for a book that honors transgender experiences rather than sensationalizes transgender lives and bodies?
Meet Polkadot is the first in a series of books that introduces readers to our main character Polkadot, a non-binary, transgender child. This book is an accessible introduction and primer to the the diversity of gender identity, the importance of allyship, and the realness of kids like Polkadot.
Gayswithkids.com – April 25, 2016
Click here to read the entire article.

Who am I? On the deepest level, I am blessed. I have an amazing partner, who I have known since 1989 and been married to since 2004. I am the donor dad of two beautiful daughters who have two moms who are equally amazing. My husband and I have expanded our family through surrogacy and have a seven-year old son. I have had three careers (acting, massage therapy and the law) and I am still discovering myself. I am the Board Chair of Men Having Babies. The one thing I know for sure is that life is about trusting your instincts. Family is an instinct.

Latest posts by Anthony Brown (see all)