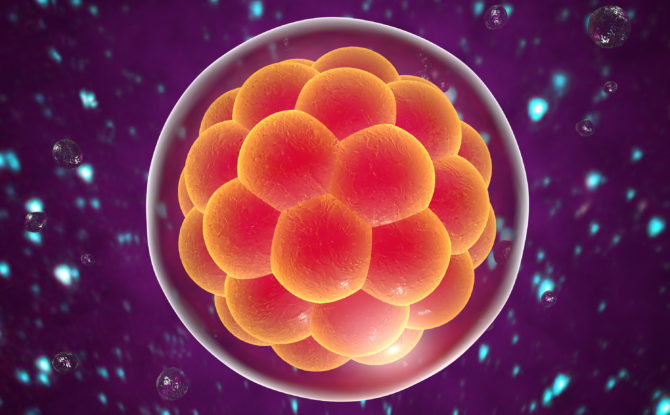 Embryo Donation May Be The Answer For You
If you are asking what to do with your extra embryos, embryo donation is a viable, and ethical, option.
Individuals and couples who have turned to IVF to help them have their families are now confronting a confounding question: what do we do with extra embryos? Embryo donation is becoming the method of choice for many of us, myself included. Every year when the embryo storage bill arrives, the ethical dilemma comes again.
The Process
Each clinic will have a different protocol to follow for directed embryo donation. Most require an Embryo Donation Agreement between the donor parent/s and the recipient individual or couple, as well as a clearance for transfer, which includes such details as spousal consent (if one donor parent is not genetically related to the embryo) and which clinic's cryopreservation equipment will be used. Once all the pieces are in place, the process goes pretty fast.
To be prepared, it is a good idea to collect all of this information in advance from your fertility clinic. They will provide you with your own health related information and, if a HIPAA waiver is prepared, the clinic may coordinate directly with the recipient's clinic to streamline the process.
Embryo Donation Agreements
The requirement of an Embryo Donation Agreement makes good sense for all parties. Most physicians require that an agreement is reviewed by legal counsel and executed before discussing this as an option with their patients. This agreement spells out the details of the transfer. These details include: confidentiality and sharing of health information, physical and psychological screening of the donor/s and the recipient/s, custody of the embryos, intention regarding parentage of a child born through the embryo donation, the duration of the agreement timing and legal disclaimers as to the uncertainty of the law around embryo donation.
While the last item may cause alarm for some, it is generally understood that Embryo Donation Agreements are created to define the intention of the parties so that if, at some point in the future, there is a disagreement about the disposition of the embryos, there will be a document that anchors the intention of the parties to the original transfer date.
My Story
My husband and I were recently alerted to the closure of the fertility clinic that helped us have our son through egg donation and surrogacy. As many gay men who turn to surrogacy know, with a young egg donor, you are likely to have more than one viable embryo. We kept them in storage until now, but when confronted with the choice of transferring them to another facility or "discarding" them, we asked ourselves if embryo donation would be the best option.
We needed more input. Our choice, when we had our son, was to remain involved in the lives of our egg donor and our surrogate mother. We were fortunate enough to find two amazing women who wanted this type of ongoing relationship as well. We wanted to include our egg donor in this "embryo" conversation because of our relationship. When we emailed about the idea of embryo donation, she thought it was wonderful. The thought of "discarding" our remaining embryos just didn't feel right for any of us.
We agreed that we would try to find either a couple or individual who had been trying to have a child but could not. Luckily, through our network of friends, we found the perfect person who was looking for a sibling for her son. The thought of helping someone else have, or grow, their family makes me understand how surrogate mothers must feel. I am in no way comparing our donation to the journey that is surrogacy, but I do feel that spark of love and hope that a child can bring. Embryo donation doesn't have to be a mystery. It can offer peace of mind to families who find themselves asking what to do with extra embryos. And you might be surprised whose dream of a family you can help come true.
Anthony M. Brown
For more information, please email anthony@timeforfamilies.com.

Who am I? On the deepest level, I am blessed. I have an amazing partner, who I have known since 1989 and been married to since 2004. I am the donor dad of two beautiful daughters who have two moms who are equally amazing. My husband and I have expanded our family through surrogacy and have a seven-year old son. I have had three careers (acting, massage therapy and the law) and I am still discovering myself. I am the Board Chair of Men Having Babies. The one thing I know for sure is that life is about trusting your instincts. Family is an instinct.

Latest posts by Anthony Brown (see all)