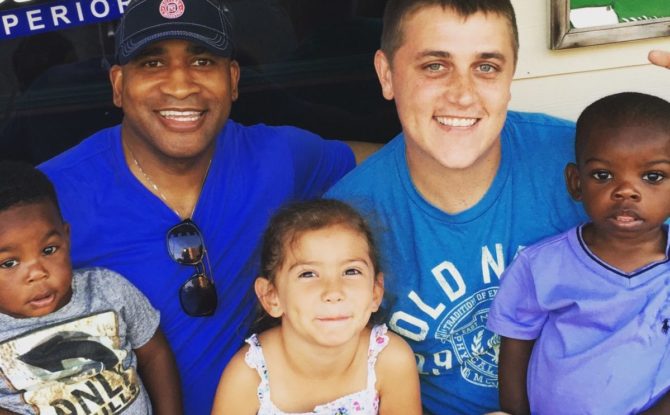 Interracial Gay Family Handbook
When same sex parents create families through transracial adoption, they must find ways to discuss racism, homophobia, instill positive racial identities, and honor their children's birth culture.
If you don't know this and what the benefits of transracial adoption are, it is worth considering before adopting. For so many same sex couples, transracial adoption is the best fit. If considering transracial adoption, there are many benefits and situations that should be discussed.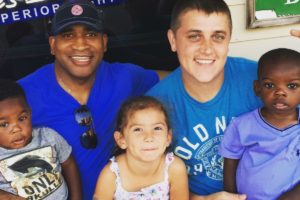 Double Takes and Stares
We are a gay interracial couple – black and white – raising our two boys, black, with our mixed-raced daughter, who looks more white than anything else.
I personally identify with being black, because it carries the same combination of pride, remembrance and regret that "African American" was designed for. Thus, I prefer to raise our boys to also identify with being black. We will let our daughter decide what identity best fits her as she gets older.
Regardless if its black parents adopting white kids or white parents adopting black kids, families like ours typically garner lots of intention when in public.
Since our mixed-race daughter looks white, she and I often get double takes everywhere we go. I prefer to credit those double takes to our daughter's beauty but reality dictates otherwise. Our first foster-to-adopt son (he has since been placed back with his birth mom) was white. He and I also received stares wherever we went. I particularly despised the "is he yours" question, which made me feel self consciously black.
My white husband, Paul, receives similar double takes and stares, perhaps more, when he is in public with our black boys. On one occasion, he was approached by an older black woman asking, "where is the mother"? A polite reply would probably be the best response, but we typically respond with "none of your business" or "I am the mother". Either way, we try to protect our children from such approaches by just removing ourselves from the situation.
Fascination with Hair
The fascination with touching other people's hair, particularly strangers, can be both frustrating and annoying. I have had situations where total strangers were fascinated with my boys' hair because it "looks" and "feels" different. My advice would be to ask the child or their parent before touching his/her hair.
January 28, 2018 daddaddykids.com by Gregory Yorgey-Girdy
Click here to read the entire blog post.

Who am I? On the deepest level, I am blessed. I have an amazing partner, who I have known since 1989 and been married to since 2004. I am the donor dad of two beautiful daughters who have two moms who are equally amazing. My husband and I have expanded our family through surrogacy and have a seven-year old son. I have had three careers (acting, massage therapy and the law) and I am still discovering myself. I am the Board Chair of Men Having Babies. The one thing I know for sure is that life is about trusting your instincts. Family is an instinct.

Latest posts by Anthony Brown (see all)