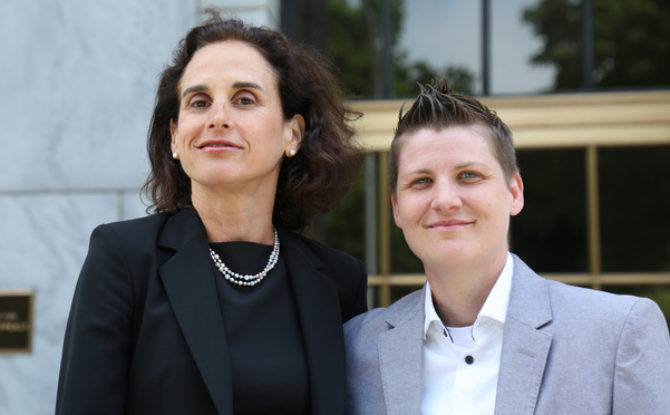 New York Family Law, Matter of Brooke S.B.
Late August 2016 marked a turning point for New York family law and how it defines parents, particularly lesbian parents.
What the court decided – Up until this decision, many lesbian parents who had not adopted the biological children or their partners or spouses were considered legal strangers to the children that many of them had raised since birth.  Under previous New York family law, these non-biological and non-adoptive parents could not seek the legal system's assistance in gaining custody, or even visitation, to the children who they helped to raise.
All that changed last month with a court case known as In the Matter of Brooke S.B. v. Elizabeth A.  C.C.  In this landmark decision, the court overturned previous New York precedent that had torn families apart for decades and ruled that non-biological and non-adoptive parents did have standing to sue for custody and visitation in the New York family court system.  This brings New York family law in line with many other states which recognize "de facto" parents for the purpose of custody and visitation and prioritizes the best interests of the child in making these critical decisions.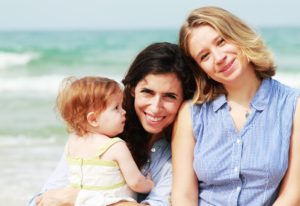 What this decision does not address? – The court was careful to base its decision on the specific facts of this case, which included one very important element: the fact that the couple agreed in advance to the conception of the child.  What this means is that if a lesbian couple has children but the non-biological or non-adoptive parent entered the picture after the conception of the child, then she would not fall under the definition of a "de facto" parent as stated in this case.  Also, if the non-biological, non-adoptive parent did not consent to the conception of the child by clear and convincing evidence, she would be forestalled from seeking custody or visitation.
It is also critical to note that the court did not explicitly state that the non-biological, non-adoption mother was a legal parent of a child born to her spouse or partner for all purposes, just that she could seek custody and visitation if she had consented to the conception.  This case also did not explicitly address the notion of the marital presumption of parentage, which a mid-level appellate court has held not to apply to same-sex couples.  This concept holds that the spouse of a married woman is automatically considered the legal parent of any child she gives birth to.
Does this mean I do not have to adopt my partner or spouse's child? – I do not believe that the court meant for this decision to be a substitute for second or step adoption.  Adoption is the one clear pathway to legal parentage and parentage includes much more that custody and visitation.  Adoption also ensures that a parent's relationship to their child would be respected across the country and around the world.
For instance, if you are the non-biological, non-adoptive parent and you have a better health care plan at work, this decision would not mandate that an employer must put the child on your health insurance. Second or step parent adoption would, however, ensure that that the child would be protected in this situation.
Brooke S.B. was also silent on whether a legal relationship between a non-biological or non-adoptive mother would be recognized for the purposes of estate administration. This means if a legal parent dies without a Will, their children automatically share in that parent's estate if they are married, or inherit the estate completely if the decedent spouse is not married.  Finally, the legal and emotional statement of securing your family through adoption resonates beyond just the family unit.  It establishes your family in the community, in your child's educational institutions and, most importantly, in the eyes of the children with whom you are creating a legal family.
Brooke S.B. also fails to address how gay men can protect their families through surrogacy.  Adoption is still the best way in New York to create legal families established through surrogacy.
Brooke S.B. will undoubtedly protect many families from the horror of being torn apart because one parent was not recognized as a real parent. For that, New York family laws will be better and stronger for all families.  But this decision is not all-encompassing and when it comes to the protection of your family, the establishment of comprehensive legal parentage by a non-biological parent is the ultimate goal.  To accomplish that, a second or step-parent adoption is essential.
For more information about New York family law and the ramifications of the Brooke S.B. decision, contact Anthony Brown at Anthony@timeforfamilies.com or visit www.timeforfamilies.com today.

Who am I? On the deepest level, I am blessed. I have an amazing partner, who I have known since 1989 and been married to since 2004. I am the donor dad of two beautiful daughters who have two moms who are equally amazing. My husband and I have expanded our family through surrogacy and have a seven-year old son. I have had three careers (acting, massage therapy and the law) and I am still discovering myself. I am the Board Chair of Men Having Babies. The one thing I know for sure is that life is about trusting your instincts. Family is an instinct.

Latest posts by Anthony Brown (see all)