They were a gay, interracial couple in an age of relentless bigotry. The two Harolds didn't flinch.
Estate agent Verna Clayborne takes a seat in the dining room of an expansive 16th Street Heights home and sighs.
The two Harolds have tired her out.
It's Clayborne's job to get rid of the stuff of the deceased. The couple who lived in the house for more than half a century — Harold Herman, a white man who died in 2016 at 87, and Harold Mays, a black man who died almost exactly a year later at 81 — had a lot of it.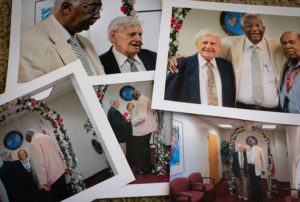 These aren't your typical finds in the home of retirees. Clayborne is sitting amid a pile of antiques and memorabilia — paintings, LPs, books, coins, stamps, personal correspondence — worth, she estimates, $500,000. These objects, curated lovingly by two collectors in love for over five decades, offer glimpses of what it was like to be black and gay in America when it was dangerous to be either.
"They knew how to live and lived well," she said of the Harolds.
The Harolds met in New England before moving in together in post-integration, pre-riot Washington in 1965. One was a black Army veteran from St. Louis, the other a white college professor from Pennsylvania. Though family and acquaintances say they were a private couple, they could not help being pioneers.
They later ran Two Harolds Antiques in Alexandria for more than a decade and owned a collection of thousands of signed first editions so extensive that they kept an in-house card catalogue. The books are varied — works by gay raconteur Quentin Crisp amid Janet Evanovich thrillers.
Much of what's left in the Harolds' home doesn't explicitly bear their mark. There's large black-and-white prints of the last century's black royalty: Harry Belafonte, Jesse Jackson, Lou Rawls, Cicely Tyson. Another photo includes two faces lesser known outside the Beltway in the 1960s and 1970s, but inescapable within it: Marion Barry and his first wife, Blantie Evans, on a beach.
But every collection reveals the collector, and in other ephemera the Harolds left behind, they come into sharper focus. One snapshot shows Mays shaking Belafonte's hand at a Politics and Prose. Another shows their modest wedding, held in 2013 at what looks like a courthouse following the legalization of same-sex marriage — after they had already been a couple for almost 50 years.
By Justin Wm. Moyer, Washington Post, October 16, 2018
Click here to read the entire article.

Who am I? On the deepest level, I am blessed. I have an amazing partner, who I have known since 1989 and been married to since 2004. I am the donor dad of two beautiful daughters who have two moms who are equally amazing. My husband and I have expanded our family through surrogacy and have a seven-year old son. I have had three careers (acting, massage therapy and the law) and I am still discovering myself. I am the Board Chair of Men Having Babies. The one thing I know for sure is that life is about trusting your instincts. Family is an instinct.

Latest posts by Anthony Brown (see all)