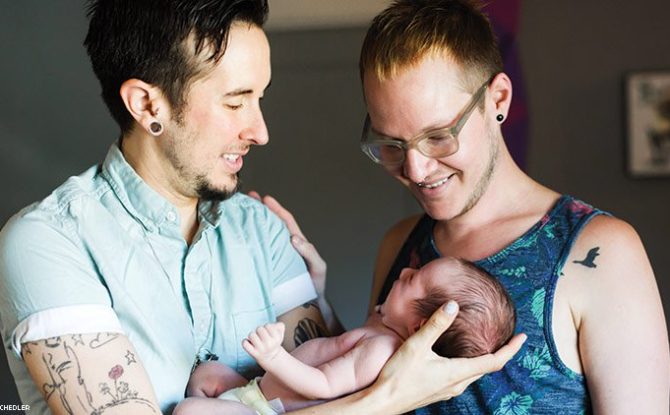 Trans Folks Want Babies Too
Parenting isn't only meant for cisgender people.
Being a transgender parent isn't always as complicated in real life as the media portrays it. While the nuances are rarely covered in magazines, shows like Amazon's Transparent, which is heading into a fifth and final season, highlight what the trans experience is like long after the children are born. But today's science is more sophisticated than in decades past, which has opened up the opportunity for trans folks to conceive children even after they've transitioned.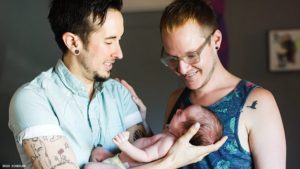 "Trans people having children is not a new thing at all," affirms Trystan Reese, director of family formation at the Family Equality Council (FamilyEquality.org). "It's newer in terms of how much other people may know about it but it's been happening for a couple of decades or so."
Reese is a trans man who gave birth to a baby boy named Leo in 2017. Leo is the first biological baby for Reese and his husband, Biff Chaplow, but he's their third child (they had previously adopted Chaplow's niece and nephew).
The Oregon couple admit that trans people giving birth has been relatively under the radar. Being an out trans person can be dangerous in many parts of the country, where education about the trans experience is limited. Despite these difficulties, Reese continues to promote fertility rights for transgender people. His efforts included hosting the council's recent Seahorses & Unicorns event, which helped share as much information about transgender fertility options as possible with the community.
As more trans people look into birthing children, doctors have begun updating their language. Many now refer to egg freezing and sperm freezing as simply gamete freezing, dropping the gender identity of the process. Whether freezing eggs, sperm, or embryos for future assisted pregnancies, gamete freezing is gaining traction among trans people before transitioning lessens their reproductive ablities or they change their gender identity with medical assistance like hormones and surgery.
Aadvocate.com, by NAYIRAH MUHAMMAD, October 2, 2018
Click here to read the entire article.

Who am I? On the deepest level, I am blessed. I have an amazing partner, who I have known since 1989 and been married to since 2004. I am the donor dad of two beautiful daughters who have two moms who are equally amazing. My husband and I have expanded our family through surrogacy and have a seven-year old son. I have had three careers (acting, massage therapy and the law) and I am still discovering myself. I am the Board Chair of Men Having Babies. The one thing I know for sure is that life is about trusting your instincts. Family is an instinct.

Latest posts by Anthony Brown (see all)