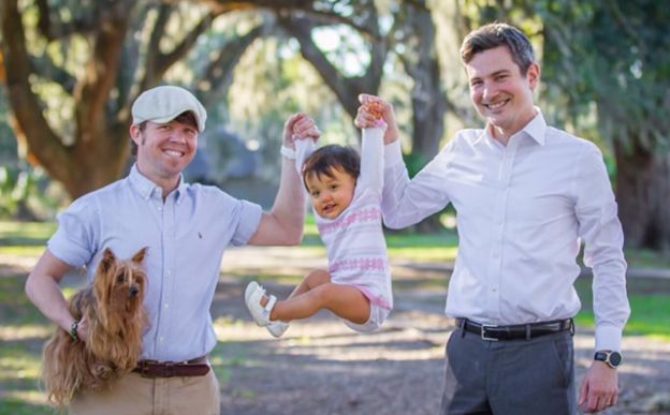 HOW TWO DADS ARE SHATTERING THE STIGMA AROUND GAY PARENTING IN THE SOUTH
Parenting is a tough enough job on its own.
Add to that the challenge of being accepted for what kind of a parent you are, and the whole thing can feel insurmountable. But that hasn't stopped two dads in New Orleans from being extraordinary parents to their little girl.
Husbands Erik and Douglas Alexander have taken to Instagram and their blog NolaPapa to help create visibility around what it means to be positive, loving gay dads. After adopting their daughter Allie Mae in 2015, they wanted an outlet to reach out to other LGBTQ families and document their own family's journey.
In the process of sharing their story, Erik and Douglas have become a beacon of hope for gay parents in the South.
After dating for almost 11 years, Erik and Douglas married in 2015 when Louisiana legalized same-sex marriage. And despite an expected 3-5 year waiting period, they were able to adopt their daughter Allie Mae in only a month and a half. Suddenly, their small suburban world changed as more and more people noticed their growing family. Their town is close to New Orleans, which is considered to be a very liberal city. But, according to Erik, "The 10-15 minutes it takes to get here takes you back in time about 30 years."
Babble.com, April 7, 2017 by Lindsay Wolf
Click here to read the entire article.

Who am I? On the deepest level, I am blessed. I have an amazing partner, who I have known since 1989 and been married to since 2004. I am the donor dad of two beautiful daughters who have two moms who are equally amazing. My husband and I have expanded our family through surrogacy and have a seven-year old son. I have had three careers (acting, massage therapy and the law) and I am still discovering myself. I am the Board Chair of Men Having Babies. The one thing I know for sure is that life is about trusting your instincts. Family is an instinct.

Latest posts by Anthony Brown (see all)