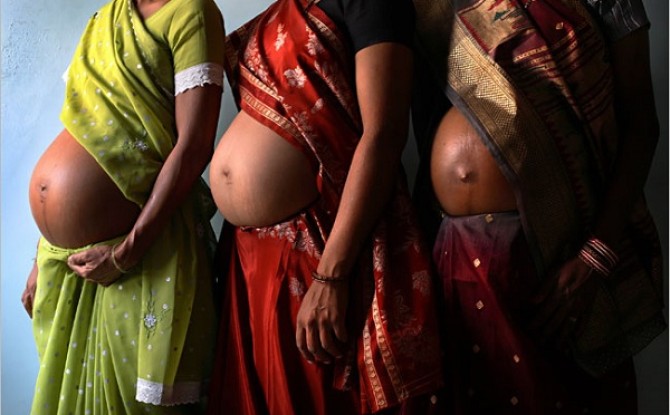 No Surrogacy Law in Unregulated India
Surrogacy law is desperately required in a country which ranks lower than traditionally patriarchal societies like Qatar and Saudi Arabia in the United Nations Gender Inequality Index, the Government's intent to block commercial surrogacy for foreigners in India is reason to celebrate. Despite impressive and revolutionary breakthroughs, India's story of gender equality remains far from inspiring.
From the rural and illiterate to the urban and literate, Indian women contend with chronic gender inequities which liberating moves like education and employment opportunities have been unable to correct. Rampant instances of gender crimes and sexist biases dominate the narrative of a country, where literacy may have unfettered women, but where decadent mindsets stymie their participation in the country's growth story. The unregulated world of commercial surrogacy contains one such saga of exploitation of the economically challenged Indian woman, across rural and urban divides.
The Health Ministry's affidavit to the Supreme Court this Wednesday makes the Government's stand on the matter abundantly clear and is indeed a significant step in insuring the rights of a surrogate mother and her child. It states that, "The Government of India does not support commercial surrogacy", and that surrogacy should be available to "Indian married infertile couples only and not to foreigners". Arguably, the altruistic intent of surrogacy — to address the parental needs of a childless couple — cannot be contested. Celebrities, from Hollywood to Bollywood, have, in fact, rendered the idea of surrogacy eminently fetching. Be it Hollywood's Nicole Kidman and Sarah Jessica Parker or even Elton John with a same-sex partner, to Indian celebrities like Shah Rukh Khan and Aamir Khan, couples, heterosexual and homosexual, have successfully reinforced the idea of altruistic surrogacy.
Commercial Surrogacy Needs Surrogacy Law to Prevent Explotation
However, there is reason to believe that the Rs900 crore worth surrogacy trade in India, far from being an altruistic enterprise, is predominantly an appalling tale of female exploitation, a surrogate mother in India available at less than one-third the cost of a similar volunteer in more developed pockets of the world. Declared a criminal offense by civilised countries the world over (from Australia, Japan, Canada, France, and the United Kingdom to some states in the United States), commercial surrogacy in India has had sinister manifestations, ethical and legal.
Today India is a favored destination for surrogacy tourism owing to the high-end medical science and technologies its medical fraternity has access to. This, alongside the criminally low financial costs and lack of Government regulation, has predictably led the practice into ethical and legal abuse, earning India the avoidable distinction of being an international hub of surrogacy services.
As per existing Indian laws, same sex couples with foreign nationality or single foreigners cannot commission surrogacy here even as single Indians can. Also, foreigners seeking surrogacy here must be a man and woman "duly married" and the marriage should have sustained for at least two years. Lest this descend into a regressive debate on Indian lawmakers' apathy to homosexuality, or even their xenophobia, there is need to understand the rationale behind such a provision. Innumerable instances have been reported where a child from a surrogate Indian mother has been abandoned by its intended foreign parents without a thought to the fate of the mother or the child's imperiled future.
Legal since 2002, commercial surrogacy in India has been open to grave misuse. The shocking case of an Australian couple forsaking one of the twin babies born to an Indian surrogate only because the two already had a child of the same sex, highlighted the need to urgently streamline this unregulated sector. In 2008, the Supreme Court had to intervene in a case where the commissioning parents were divorced during the pregnancy and the intended mother refused to accept the child. As per current Indian laws, foreign couples seeking surrogacy have to provide a written undertaking from the country of their origin that a child born through surrogacy would be taken to their country. However, this provision alone has not been able to prevent misuse.
A more comprehensive answer is available in the 2010 draft, Assisted Reproductive Technology (Regulation) Bill pending in Parliament. Admittedly, surrogacy forms only a part of the proposed Bill which intends to be a legal umbrella providing respite to childless couples while protecting surrogate mothers. Surrogacy, however, has been specifically vulnerable to abuse, claiming hundreds of economically disadvantaged women as its unsuspecting victims.
Therefore, there is urgent need for a fail-safe surrogacy law that guards the interests of the intended parents and the surrogate mother and child through a monitoring system rigorously implemented. Israel has led in this matter, becoming the first country in the world to approve of a state-ordered surrogacy policy wherein every case is scrutinized and sanctioned by the Government. Even Russia, where commercial surrogacy is legal, the industry is subject to rigid scrutiny by Governmental agencies.
Click here to read the entire article.
DailyPioneer.com, October 30. 2015 by Shobori Ganguli