Last Week Tonight is getting the last laugh in its (perhaps one-sided) feud with Mike Pence. On Sunday, John Oliver announced that staff writer Jill Twiss and illustrator E.G. Keller had penned a picture book that purposefully apes the Pence family's own children's book about their bunny, Marlon Bundo.
In a twist of expert trolling, Oliver just revealed that his team's book not only beat the Pence family book on the charts, but has also sold 180,000 copies already—just days after its publication was announced. What's more, the book isn't even available in bookstores yet—only Amazon.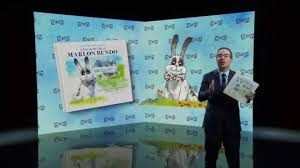 Oliver joked about those amazing results in a Tuesday night interview with Seth Meyers. The Last Week book (titled Last Week Tonight with John Oliver Presents a Day in the Life of Marlon Bundo) is a direct send-up of the Pence family's own book, titled Marlon Bundo's Day in the Life of the Vice President. While the Pence book is about Bundo following Vice President Mike Pence around for a day, the Oliver book is about Bundo falling in love with a boy bunny and getting married—a direct response to Pence's anti-L.G.B.T.Q. reputation. In addition, all proceeds of the Last Week Tonight book go to non-profit organizations the Trevor Project and AIDs United.
While Oliver and his team probably hoped that their creation would beat the Pence book in sales, they couldn't have predicted the book shooting all the way up the Amazon charts, beating out heavy titles like James Comey's not-yet published A Higher Loyalty.
by Yohana Desta,
Vanity Fair – March 21, 2018
Click here to read the entire article.