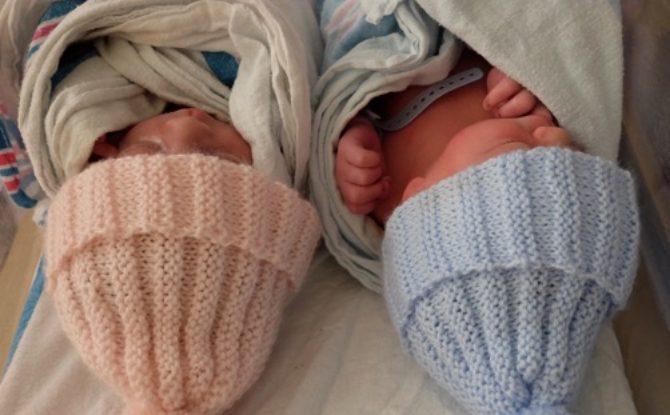 Early last month, my husband and I became grandparents for the first time, when my son and his husband became the fathers of twins.
There is a plethora of options for a gay couple to explore when they are considering parenthood. Adoption? Co-parenting? Surrogacy? Who will donate the egg and/or sperm? What are the legalities? And where do you even start such a process?
I am so very grateful — perhaps relieved is a better word — that my son and his husband live in a city with a large LGBTQ population. This has meant that from the moment they knew they wanted to become parents, they had access to a wealth of knowledge and experience. This is knowledge and experience that my husband and I, for lack of personal experience, simply couldn't help them with.
The conversations I had with my son and son-in-law while they were taking their Daddies & Papas 2B program at a local LGBTQ community centre in downtown Toronto were some of most intimate and emotional conversations I have ever had with him. The roles in our relationship were completely reversed: the child was teaching the parent.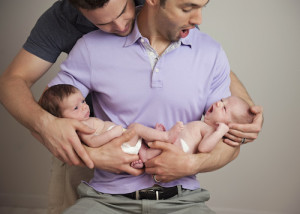 It was a special time in my relationship with my son, and I will always cherish it.
You know who was even happier than John and me about the thought of babies? Our own parents. My father lived long enough to see my son marry the man he loved, but never knew that he would be the first of our three boys to have children. Still, the twins now have three great-grandparents who are healthy, and so very proud to talk about — and advocate for — gay marriage and same-sex parenthood.
I got to watch my mother hold a newborn girl named after her, and her great-grandson, named for my son's grandfather-in-law. She marvelled at their perfection, and talked about the modern miracle of these babies' conception and births through the egg donation of my son-in-law's sister, and the generosity of a surrogate mother who carried the twins healthily to term. It was one of the most perfect moments in my life.
Sharing love. Sharing challenges. Supporting one another. Sharing wonder. This is how we family.
My grandchildren were born in June, which also happens to be Pride Month. What will they know of the struggles that brought us to the place where their daddies could be legally married? Will they know why, when PFLAG – the national organization to help with issues of sexual orientation, gender identity and gender expression – walks down Yonge Street during the Pride Parade in Toronto, men and women who are watching the parade from the sidewalk hold each other and sob?
My grandchildren are the son and daughter of two men who love each other so much that they were willing to take on the challenge of creating a family of their own in a world where that can be difficult, and resistant to such a thing. Financially, it is overwhelming. The legal paperwork is daunting. The persistence, the determination, the multitude of conversations, considerations and decisions that they tackled to get to parenthood makes me hopeful for their children. These babies are so wanted, and so deeply loved.
The day the twins were born, at around five in the evening, my husband and I assumed new roles. Since then I've been thinking of all of the books I'll read to the children, and the songs we'll sing. I'll teach them to bake their father's favourite cookies. I'll take them to Young People's Theatre. We'll hike and we'll bike. My husband is building special kid-friendly farm scenes into his model train set. In other words, we'll become like any other loving grandparents who hope to do right by their children's children — with one particular difference.
One Saturday night earlier this month, a gunman walked into a nightclub in Orlando, Fla., reminding us that the world is still a dangerous place for LGBTQ people, and for the people who love them.
He reminded me that as a mother, as a grandmother, and most basically as a human being, I have a responsibility to fight homophobia and transphobia.
Of course I am an ally — but in order to call myself an ally I have to be an active one. In doing things like walking with PFLAG in Toronto's annual Pride Parade and in writing about my family, I am taking a stand for my son and his husband. I am vocally supporting all of the same- sex marriages and partnerships and the "gayby babies" that may result from those relationships.
June 29, 2016 by Patti Paddle, TVO.org
Click here to read the entire article.