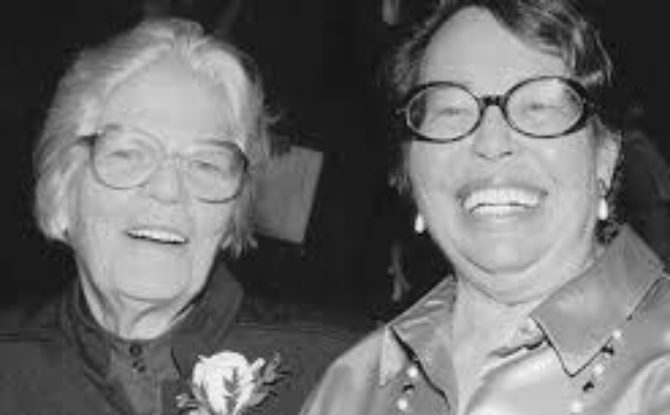 When Phyllis Lyon married her partner of 55 years in 2008, they formed the first legal gay union in California.
Phyllis Lyon, who when she married her partner, Del Martin, in 2008 became part of the first legal gay union in California, died on Thursday at her home in San Francisco. She was 95.
Her sister, Patricia Lyon, confirmed the death.
It was not their first wedding. In 2004, despite state and federal bans on same-sex marriage, then-Mayor Gavin Newsom of San Francisco began issuing marriage licenses to same-sex couples. Ms. Lyon and Ms. Martin were the first to receive one, but that union would be short-lived. The California Supreme Court invalidated their marriage a month later, arguing that the mayor had exceeded his legal authority.
Four years later, the same court declared same-sex marriages legal and Mr. Newsom invited the couple back as the first to be married under the new ruling. Ms. Martin died shortly after.
"I am devastated," Ms. Lyon said following her wife's death. "But I take some solace in knowing we were able to enjoy the ultimate rite of love and commitment before she passed."
The mauve and turquoise-blue suits that the couple wore to their weddings are in the permanent collection of the GLBT Historical Society in San Francisco.
Mr. Newsom, who is now the governor of California, said on Twitter: "Phyllis — it was the honor of a lifetime to marry you & Del. Your courage changed the course of history."
Phyllis Ann Lyon was born on Nov. 10, 1924, in Tulsa, Okla. to William Ranft Lyon, who was a salesman, and Lorena Belle (Ferguson) Lyon, who was a homemaker. The family moved to Sacramento, Calif., in the early 1940s.
After graduating from the University of California, Berkeley, in 1946 with a degree in journalism, Ms. Lyon worked as a reporter for the Chico Enterprise-Record in Chico, Calif. She moved to Seattle in 1949 to work at a construction trade journal, where Ms. Martin was also employed. They began dating and, on Valentine's Day in 1953, moved in together in San Francisco.
Click here to read the entire article.