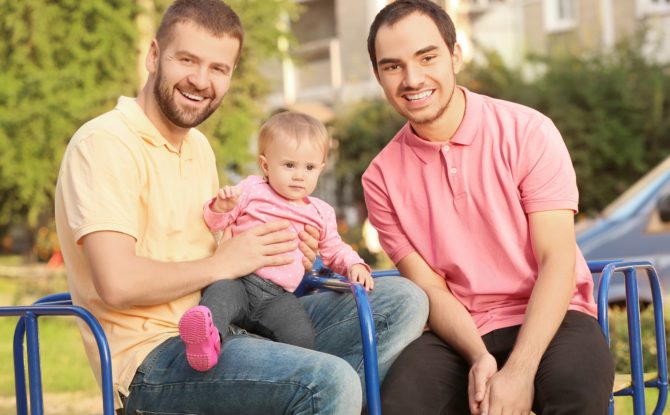 The price of parenthood can be costly for LGBTQ millennials, and all LGBTQ families, especially those dependent on assisted reproductive technology.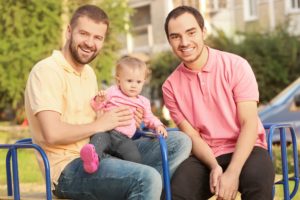 Since they married in 2015, LGBTQ millennials, Jonathan Hobgood, 37, and his husband, Kerry Johnson, 36, have wanted to be dads. At first, the couple saw adoption as the best path to parenthood, but South Carolina, where they live, is one of 10 states with religious exemption laws that make it more difficult for same-sex couples to foster and adopt, and they worried that adopting would set them up for a legal nightmare down the road.
"Our concern was that if we did a private adoption and the birth mother decided a couple of years later that she wanted her child back, we would be in for a rather extensive legal battle to try to keep the child," Hobgood told NBC News. "So we just decided, 'Well, let's take ourselves down the surrogacy path from there.'"
In reality, a court-ordered private adoption would have provided the secure, legal parent-child relationship Hobgood and Johnson were looking for, but it is common for prospective parents to have misconceptions about how the law treats parental rights, according to Denise Brogan-Kator, chief policy officer at Family Equality.
The couple did their research. The cost of hiring a female surrogate, they learned, would be steep — $120,000 to $150,000, a price that Hobgood, a project specialist for a medical insurance company, and Kerry, a management analyst with the U.S. Department of Veteran Affairs, could hardly afford. But it did not deter them.
"I knew I wanted to be a child's father," Hobgood said. "I really just wanted to go through and enjoy bringing up this wonderful child who is a part of our family."
Hobgood and his husband are among an increasing number of lesbian, gay, bisexual, transgender and queer people in the U.S. planning to have children, according to data released this year by Family Equality, a national nonprofit that advocates for LGBTQ families. And despite the additional financial barriers for many prospective parents in this group, this increased desire to have children was found across income levels, according to a report the group released this month, "Building LGBTQ+ Families: The Price of Parenthood."
Family Equality polled LGBTQ millennials -500 LGBTQ and 1,004 non-LGBTQ adults, and found that the desire to become parents is nearly identical among both lower- and higher-income lesbian, gay, bisexual, transgender and queer people. Forty-five to 53 percent of LGBTQ people between the ages of 18 and 35 are planning to become parents for the first time or add another child to their family (compared to 55 percent for their non-LGBTQ counterparts, a gap that has narrowed significantly compared to older generations).And those making less than $25,000 a year plan to have children at a similar rate to those making over $100,000, according to the report.
Amanda Winn, the organization's chief program officer, was surprised by the findings.
"I was expecting that folks who were living at the poverty line would report lower rates of wanting to bring children into the home knowing that finances were tight, but that's not the case," Winn told NBC News. "That innate, strong desire to have families exists regardless of income levels."
LGBTQ prospective parents are more likely to face financial hurdles than their heterosexual peers, according to the report. Reasons include their relatively lower annual household incomes and the additional costs associated with having a child using an option other than sexual intercourse, which is considered by only 37 percent of LGBTQ people planning to start their families or have more children.
Assisted reproductive technology: 'an impossible barrier' for some
Thanks to advancements in assisted reproductive technology (ART), such as artificial insemination, in vitro fertilization and surrogacy, more LGBTQ people can have children through nontraditional methods, and interest is growing. Forty percent of LGBTQ people are considering such technology to conceive children, according to a Family Equality survey published in February — but many of these prospective parents will pay for it out of their own pockets, and the technology can be expensive.
"Most LGBTQ+ individuals will learn that their health insurance plan does not cover the cost of fertility treatments at all, and, if they do, the individual or family unit must prove that they have been 'trying' to conceive for 6-12 months before coverage begins," the Family Equality report states. "This stipulation in the policy results in high monthly expenses for some and creates an impossible barrier for others."
nbcnews.com, by Julie Compton December 27, 2019
Click here to read the entire article.