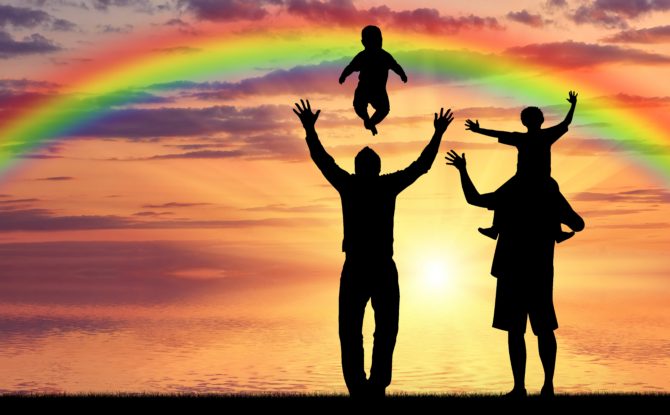 When my husband David and I became new parents, we thought it would be fun and perhaps even affirming to get involved with a gay dads group.
As far as I could tell, the only regular event was a brunch that took place every few months. That sounded promising, a throwback to idle Sundays before the babies made it all about them. The food was always great—these are gay men, after all. But as it turned out, the event was neither fun nor affirming.
The gatherings mostly took place in wealthy suburban redoubts and were marked by a weird social division between two teams: Surrogacy Dads and Adoptive Dads. Some of this division was to be expected. Each group had war stories to share, and it was natural to break the ice with those who had lived through similar experiences. But after one or two brunches, I came to see that this kind of informal division reflected something much deeper: a philosophical debate about how we should form our families. The annoyingly named "gayby boom" has created a knot of moral questions that are impossible to avoid.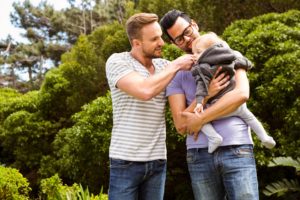 Should is a weird word to use in this context, of course. For gay men especially, bringing children into the family is difficult and challenging no matter which route one chooses. Our first instinct should be support for all families, regardless of what route each of us took to realize our dreams. Both surrogacy and adoption present daunting legal obstacles—even now that marriage equality has been achieved.
As I learned when researching a book I co-authored, surrogacy is a state-by-state legal minefield. Some states won't recognize these contracts at all, while the law in other states is unsettled. And there is the ever-present danger that the woman carrying the child will try to renege on her commitment. Adoption is hardly more secure. The countries offering this choice to gay men are constantly changing. Domestic adoption can be fraught as well either because birth mothers change their minds, or as in our case of adoption through the child welfare system, because the process has no certain outcome.
Beyond the legal hurdles, though, there's an undeniable moral component to whatever decision we make. Those who can pony up the money for surrogacy—which frequently exceeds $100,000, all in—are faced with the cold fact that they're selecting an egg donor based on objective calculations of positive attributes. Lesbians do the same with sperm donors, although of course at a much lower cost since no surrogate is needed.
When a case surfaces that draws the uncomfortable selection process into the open, people are left tongue-tied trying to figure out the proper response. A couple of years ago, I wrote a piece for Slate about the case of a lesbian couplethat sued a sperm bank for providing the "wrong" material—from a black, rather than a white, donor. As I said at the time, outraged gasps at the couple were "easy, but not completely fair. Because everyone who transacts business with companies that offer sperm and egg donation is looking for a bespoke baby."
When it comes to the gestational surrogate, there's the additional issue of contributing to an industry that commodifies the body in an obvious way. The ethical issues multiply when the surrogate is from a developing country, often India, where women are paid much less for their services; but such "surrogacy tourism" just highlights the uncomfortable exchange going on in all these cases.
Those thinking of adopting face internal battles, too. As required by law, case workers confronted David and me with an unsettling battery of questions about the race, age, and sex of the kids we were willing to adopt, as well as delicately phrased inquiries about whether we'd be comfortable dealing with disabled kids—and, if so, they needed to know, what kinds of disabilities did we think we could handle? Really, who knows?
By John Culhane, slate.com
Hey, Daddy! is a monthly column exploring the joys and struggles of parenting from a gay father's perspective. Got a topic idea or question for Daddy? Send your letter along to johnculhane@comcast.net.
Click here to read the entire article.