2020 Democrats Slam 'Cruel' Trump Administration Policy Denying Citizenship to Kids of LGBT Couples
Mayor Pete Buttigieg, one of the 2020 Democrats running for president, the first presidential candidate to be in a same-sex marriage, wrote on Facebook the policy is 'a sober reminder that we must continue to fight for equality.'
From the 2020 Democrats ' campaign trail to the halls of Congress, Democrats condemned a State Department policy that withholds American citizenship from some children of U.S. citizens who are born abroad.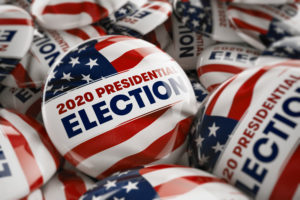 Their reactions came after a story by The Daily Beast highlighted the damage the policy has done to the families of same-sex couples.
The policy deems children born abroad via assisted reproductive technologies as having been born "out of wedlock," even if their parents are legally married, creating legal hurdles to obtaining birthright citizenship that threaten to keep parents permanently separated from their infant children.
On Thursday evening, House Speaker Nancy Pelosi (D-CA) released a statement aggressively condemning the policy, which she called "unconscionable attack on American families" that "violates our Constitution."
"Once again, the Trump Administration is demonstrating just how far they are willing to go to undermine our core values and advance their hateful agenda," Pelosi said. "The State Department must uphold our laws, end this cruel and inhumane policy and treat every family with the dignity and respect that they deserve."
Leading Democratic presidential candidates, too, called for the State Department to reverse the policy.
"If you are born to U.S. parents, you are entitled to U.S. citizenship, full stop," said Sen. Elizabeth Warren (D-MA). "This is just another example of the Trump administration's shameful attacks on LGBTQ+ families."
Posting on Facebook, Vermont Sen. Bernie Sanders called the policy "completely outrageous."
"The Trump administration's bigotry seems to have no limit," Sanders said. "When we are in the White House this kind of discrimination will have no place in our government."
Sen. Kamala Harris (D-CA), who counts both the Kivitis and the Dvash-Bankses as constituents, tweeted that the policy is "a cruel attack on LGBTQ* families."
DailyBeast.com, May 15, 2019 by Scott Bixby
Click here to read the entire article.

Who am I? On the deepest level, I am blessed. I have an amazing partner, who I have known since 1989 and been married to since 2004. I am the donor dad of two beautiful daughters who have two moms who are equally amazing. My husband and I have expanded our family through surrogacy and have a seven-year old son. I have had three careers (acting, massage therapy and the law) and I am still discovering myself. I am the Board Chair of Men Having Babies. The one thing I know for sure is that life is about trusting your instincts. Family is an instinct.

Latest posts by Anthony Brown (see all)