Adopting in the US has more heartache than you'd imagine
Mike Anderson and his husband, Jeff Binder, endured a difficult adoption of daughter Annika, and missed out on a second child.
"Kidz Bop" children's music producer Mike Anderson, 42, and his husband, TV's "Damages" and Broadway actor Jeff Binder, 45, longed to start a family, but adopting a child in the US proved to be more difficult than they ever imagined. Here, Mike tells The Post's Jane Ridley about their epic adoption missions, which resulted in both joy and heartache.
Blowing out the candle on her birthday cupcake last Saturday, our beautiful daughter Annika clapped her hands with delight.
My husband, Jeff, and I could hardly believe it's been four years since she officially became ours at 2 days old — especially since adopting her was a nerve-racking roller coaster of emotions.
Jeff and I first discussed having kids before we got married in December 2008. For me, part of coming to terms with being gay had been mourning the loss of my chance to have children. When Jeff suggested we do the same as our friends who had adopted or hired surrogates, I came to see how realistic it was. Being dads was an exciting prospect.
But it wasn't until we'd moved from Inwood to Rhinebeck, NY, that we researched the subject properly, and rejected the idea of surrogacy because of the cost — about $120,000. We started down the adoption route in August 2011. We wanted a newborn, and we thought our chances were better domestically.
For many couples, it takes years to bring a baby home, but for us, it happened pretty fast. We hired Manhattan attorney Suzanne Nichols and were approved by the New York State Adoption Service in February 2012.
Next, we hired an adoption facilitator named Heidi, who helped draft our ad. "Broadway actor and children's music producer yearn for miracle baby," it read. It was Hallmark cheesy, but Heidi told us it would appeal to the demographic we were targeting.
We placed the ad in the PennySaver in so-called "adoption-friendly" states like Arizona, Indiana, Pennsylvania, Florida and Wyoming. There, the birth mother has less time to change her mind. In states such as New York, the window is as long as 45 days after giving birth.
Heidi answered all the calls we got on an 800 number and, if she thought they were legit, I did the follow-up. She told us to treat every potential mother as The One, even if you're juggling more than one at the same time.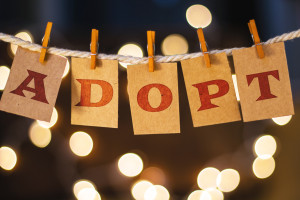 They were all hard-luck stories, including an older mom who got pregnant by her friend's son. Then along came Stephanie*, a 32-year-old mother from Lafayette, La., reaching out on behalf of her daughter, Deana*. The 14-year-old had hidden her pregnancy for seven months after meeting a boy at a party. Most of our dealings were done through Stephanie — we spoke to Deana occasionally but she was quiet and didn't say much. "We want to give up the baby for adoption," Stephanie assured us over the phone several times. "Deana just can't be raising a baby at this point."
There are strict rules about what you can and can't pay for when you're adopting. You can provide the mother with money toward groceries, transportation and housing. But, to be honest, we felt like Stephanie played us a little because she thought we were wealthy.
We ended up buying the family a $4,000 trailer to live in because they were moving to Cocoa, Fla., as well as their monthly land-rent of $900 and a $2,500 truck. Groceries were about $120 a week, and we hired a doula to assist with the birth for about $2,000. Stephanie even called and said, "Deana wants a kitten. Will you buy her one?" Our lawyer advised us not to because it could get us into trouble. In total, the whole adoption process cost us $60,000.
I had a strong feeling that it was all going to fall apart, but we pressed ahead.
Meanwhile, we'd found another birth mom, a 16-year-old from Germantown, Md., who was due three months after Deana. We figured that, if everything worked out, we'd pretty much have the equivalent of twins.
Click here to read the entire article.
May 12, 2016 by Jane Ridley, New York Post

Who am I? On the deepest level, I am blessed. I have an amazing partner, who I have known since 1989 and been married to since 2004. I am the donor dad of two beautiful daughters who have two moms who are equally amazing. My husband and I have expanded our family through surrogacy and have a seven-year old son. I have had three careers (acting, massage therapy and the law) and I am still discovering myself. I am the Board Chair of Men Having Babies. The one thing I know for sure is that life is about trusting your instincts. Family is an instinct.

Latest posts by Anthony Brown (see all)