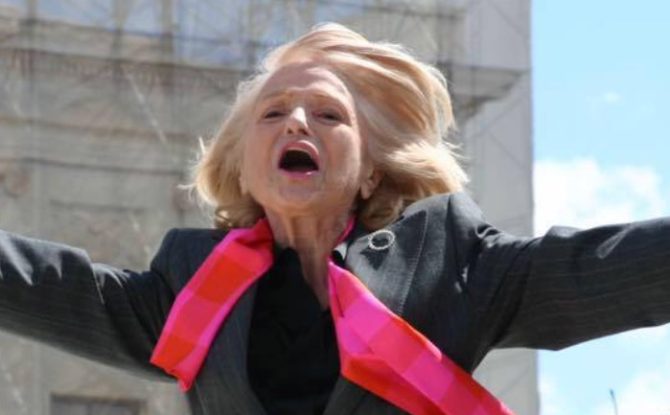 Edie Windsor, Equality's Champion, Dies at 88
Edie Windsor, a tireless advocate for LGBTQ rights who became a worldwide icon at age 84 when her lawsuit against the US government led the Supreme Court, in 2013, to strike down the key provision of the Defense of Marriage Act, has died at the age of 88.
"I lost my beloved spouse Edie, and the world lost a tiny but tough as nails fighter for freedom, justice, and equality," said Judith Kasen-Windsor, who married Windsor last September, in a written statement. "Edie was the light of my life. She will always be the light for the LGBTQ community, which she loved so much and which loved her right back."
Roberta Kaplan, the civil rights litigator who represented Windsor in her successful DOMA challenge, said, "Representing Edie Windsor was and will always be the greatest honor of my life. She will go down in the history books as a true American hero. With Edie's passing, I lost not only a treasured client, but a member of my family. I know that Edie's memory will always be a blessing to Rachel, myself, and Jacob. I also know that her memory will be a blessing not only to every LGBT person on this planet, but to all who believe in the concept of b'tzelem elohim, or equal dignity for all."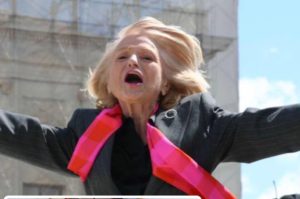 Windsor's victory at the Supreme Court, which came on a 5-4 vote on June 26, 2013, meant that the federal government was obligated to recognize all legal marriages of same-sex couples on the same terms as those of different-sex couples. Windsor arrived before the Supreme Court in her challenge to a federal estate tax bill of more than $360,000 after the 2009 death of her first wife, Thea Spyer.
Windsor and Spyer, both New Yorkers who began dating in 1965, had traveled to Toronto in 2007, where they legally married. The following year, a New York court ruled that the state would recognize legal same-sex marriages from other jurisdictions, despite the fact that such marriages could not yet be formalized within the Empire State. Regardless of New York's recognition of their marriage, the Internal Revenue Service viewed Windsor and Spyer as legal strangers.
Although Justice Anthony Kennedy's majority opinion in the DOMA case made clear that the court was not ruling on the underlying question of whether same-sex couples have a constitutional right to marry — but instead on the narrower issue of whether the federal government must recognize those marriages legally recognized by the states or foreign governments — over the following two years, district and appeals courts, in a blizzard of pro-equality rulings, drew on the logic of the Windsor decision to find just such a constitutional right. On June 26, 2015, two years to the day after the Windsor ruling, the Supreme Court, in the same 5-4 split, ruled that same-sex couples have a right to marry.
by Paul Schindler, gaycitynews.com – September 12, 2017
Click here to read the entire article.

Who am I? On the deepest level, I am blessed. I have an amazing partner, who I have known since 1989 and been married to since 2004. I am the donor dad of two beautiful daughters who have two moms who are equally amazing. My husband and I have expanded our family through surrogacy and have a seven-year old son. I have had three careers (acting, massage therapy and the law) and I am still discovering myself. I am the Board Chair of Men Having Babies. The one thing I know for sure is that life is about trusting your instincts. Family is an instinct.

Latest posts by Anthony Brown (see all)