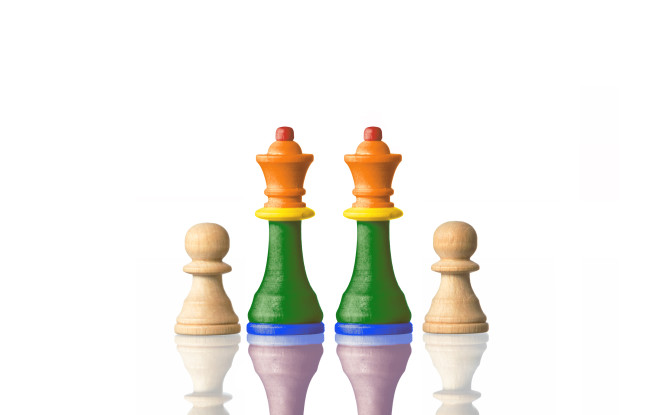 Same-Sex Couples and Their Children Speak Out: 'My Family Is Just as Good as Anyone Else's'
First comes love, then comes marriage—same sex couples and everyone knows what happens after that.
Children are the expected outcome of matrimony. Now that gay marriages are legal, the kids of their unions are subject to even more scrutiny, on top of the years of criticism from socially conservative groups like Focus on the Family and Americans for Truth About Homosexuality.
But according to a recent study in the Journal of Developmental and Behavioral Pediatrics, the kids are more than just all right; many of them are thriving. While the study focused on the biological children of lesbian households, there's been tons of research—73 studies, meticulously reviewed by other social scientists—proving that stable same-sex partnerships, just like heterosexual ones, produce physically and emotionally healthy kids. The Root spoke to four same-gender families about the three factors they believe fuel their success.
According to LGBTQ-advocacy organizations like the Family Equality Council, successful gay families are often especially deliberate about planning for children. And many of those families are multiracial, with white parents raising kids of color. Gary Gates, retired research director of the Williams Institute, UCLA School of Law, a research center focused on sexual orientation and gender-identity law and policy, found that among white long-term couples raising children under age 18, 17 percent of single-sex couples have at least one nonwhite child, compared with 3 percent of different-gendered couples. In fact, single-sex white couples are more than five times more likely than their different-gendered counterparts to be raising nonwhite children.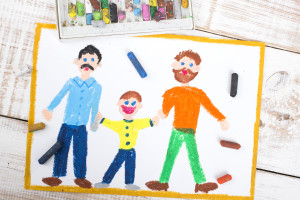 Race mattered not for white-and-Latino couple Eva Smith, 44, and Liz Fuentes, 46, of South Orange, N.J., who are using pseudonyms to protect their African-American children's privacy. Parenting was an essential part of becoming a family, as was careful planning.
"As a woman, [wanting children] was almost innate for me," says Smith, who has been with Fuentes for 20 years. "I wanted to be a mom, and there are so many children out there who need loving families—we weren't concerned with the genetics."
Ten years ago, the couple began the adoption process of their two black sons, Peter and Adam, both age 10. After completing nearby New York's rigorous process of workshops designed to prepare parents for adoption, which includes extensive background checks, a home study and home inspection, Smith and Fuentes were matched twice by the state with foster children they eventually adopted. The family have since relocated from the busy streets of Brooklyn, N.Y., to the quieter New Jersey suburbs to give their children the best possible quality of life and access to competitive schools that could address the boys' developmental delays.
Sometimes a child's geographic upbringing can be both a help and a hindrance. Growing up in rural Maine, for instance, gave Family Equality Council Co-Interim Executive Director Brent Wright, who is white, a quiet life, but left his desire to be a father "a dream deferred" because he'd never seen any gay families. As his community evolved and changed, so did his prospects for parenthood. He and his husband, Sandis, who have been together for 25 years and live in Andover, Mass., with their two black daughters, went forward with adoption after months of classes and meetings with clergy, mentors with social services experience and people of color.
"[We] had a really good grounding in the importance of cultural respect and understanding what it means to transracially adopt," says Wright. Their girls, Olivia and Noelle, are 7 and 2 and participate in gymnastics, theater and ballet.
Though today's climate for LGBTQ families is stronger than in years past, parents must prepare themselves and their children for the realities of intolerance and hatred of all kinds. Yvonne and Rebecca Johnson, both 33, are a black lesbian couple raising their sons, Raphael, 12, and George, 14, who are Yvonne's biological children. They live in Columbus, Ga., where their closest neighbor has a Confederate flag proudly on display. (The family's names have been changed to prevent personal and professional backlash in their conservative hometown.)
"When the kids were young, we explained to them that people might say or do hurtful things [because of our family]," says Yvonne Johnson.
George, a ninth-grader with a passion for acting, is grateful for the confidence instilled by such conversations.
by Tamika Anderson, May 17, 2016 – TheRoot.com
Click here to read the entire article.

Who am I? On the deepest level, I am blessed. I have an amazing partner, who I have known since 1989 and been married to since 2004. I am the donor dad of two beautiful daughters who have two moms who are equally amazing. My husband and I have expanded our family through surrogacy and have a seven-year old son. I have had three careers (acting, massage therapy and the law) and I am still discovering myself. I am the Board Chair of Men Having Babies. The one thing I know for sure is that life is about trusting your instincts. Family is an instinct.

Latest posts by Anthony Brown (see all)