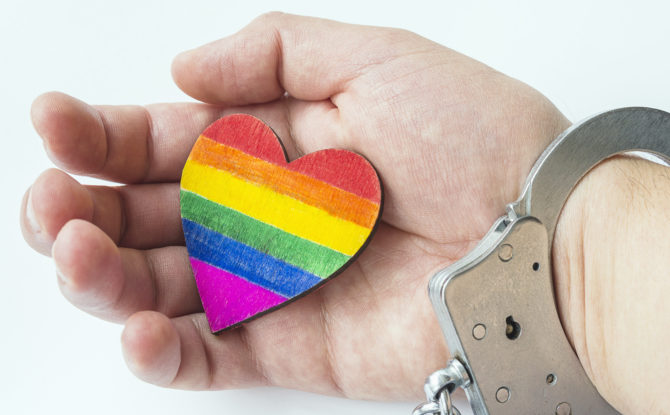 For Many L.G.B.T. Migrants, North of the Border Is No Refuge
Jade Quintanilla had come to the northernmost edge of Mexico from El Salvador looking for help and safety, but five months had passed since she had arrived in this border town, and she was still too scared to cross into the United States and make her request for asylum.
Violence and persecution in Central America had brought many transgender women such as Ms. Quintanilla to this crossroads, along with countless other L.G.B.T. migrants. They are desperate to escape an unstable region where they are distinct targets.
Friends in San Salvador, Ms. Quintanilla said, were killed outright or humiliated in myriad ways: They were forced to cut their long hair and live as men; they were beaten; they were coerced into sex work; they were threatened into servitude as drug mules and gun traffickers.
Still, just a few miles from the border, Ms. Quintanilla, 22, hesitated. "I've gone up to the border many times and turned back," she said in a bare concrete room at the group home where she was living, holding her thin arms at the elbows. "What if they ask, 'Why would we accept a person like you in our country?' I think about that a lot. It would be like putting a bullet to my head, if I arrive and they say no."
While the Trump administration has tightened regulations on asylum qualifications related to gang violence and domestic abuse, migrants still can request asylum on the basis of persecution for their L.G.B.T. identity. But their chances of success are far from certain, and the journey to even reach the American border is especially risky for L.G.B.T. migrants.
Trans women in particular encounter persistent abuse and harassment in Mexico at the hands of drug traffickers, rogue immigration agents and other migrants, according to lawyers and activists. Once they reach the United States, they regularly face hardship, as well.
There are no numbers available disclosing how many L.G.B.T. migrants seek asylum at the border each year or their success rate, but lawyers and activists say that the number of gay, lesbian and trans people seeking asylum each year is at least in the hundreds.
In weighing whether to risk the journey north, many L.G.B.T. migrants from Central America gamble that the road ahead cannot be worse than what they are leaving behind.
Victor Clark-Alfaro, an immigration expert at San Diego State University who is based in Tijuana, said that he has noticed more openly L.G.B.T. people in recent years making the journey to the border with hopes of seeking asylum. He said they are often the victims of powerful criminal gangs in Central America and Mexico — but also of bigoted neighbors, police officers and strangers.
by Jose A. Del Real, New York Times
Click here to read the entire article.

Who am I? On the deepest level, I am blessed. I have an amazing partner, who I have known since 1989 and been married to since 2004. I am the donor dad of two beautiful daughters who have two moms who are equally amazing. My husband and I have expanded our family through surrogacy and have a seven-year old son. I have had three careers (acting, massage therapy and the law) and I am still discovering myself. I am the Board Chair of Men Having Babies. The one thing I know for sure is that life is about trusting your instincts. Family is an instinct.

Latest posts by Anthony Brown (see all)