Family Time With Frank, John and Zachary
John and Frank live in Oakland Park with their four-year-old son, Zachary. In 2012, the couple fostered Zachary right out of the hospital after he was born and then 18 months later, Frank adopted him as a single father and they became a gay family.
John is from San Francisco. He recently graduated from college and works in human resources. Frank is from New York. He is a registered nurse at Broward General Medical Center and a former New York firefighter. In fact, he was one of the initial responders on 9/11. The couple met eight years ago playing softball.
The two got married in Broward County just after midnight on Jan. 6.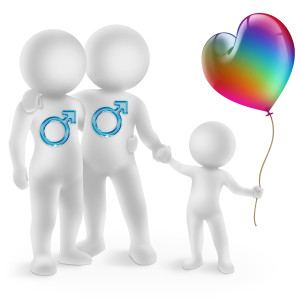 In addition to the legal benefits, a huge motivating factor for the couple getting married was so John could join Frank as Zachary's legal father on his son's birth certificate. In many cases, unmarried gay couples were not allowed to adopt in Florida, with single fathers having to pass off their significant other as a "roommate".
"(Before) If something happened to Frank, I wouldn't have (had) a place to live and I would (have) lost Zachary," John said.  Meet this gay family!
Visit gayswithkids.com.

Who am I? On the deepest level, I am blessed. I have an amazing partner, who I have known since 1989 and been married to since 2004. I am the donor dad of two beautiful daughters who have two moms who are equally amazing. My husband and I have expanded our family through surrogacy and have a seven-year old son. I have had three careers (acting, massage therapy and the law) and I am still discovering myself. I am the Board Chair of Men Having Babies. The one thing I know for sure is that life is about trusting your instincts. Family is an instinct.

Latest posts by Anthony Brown (see all)