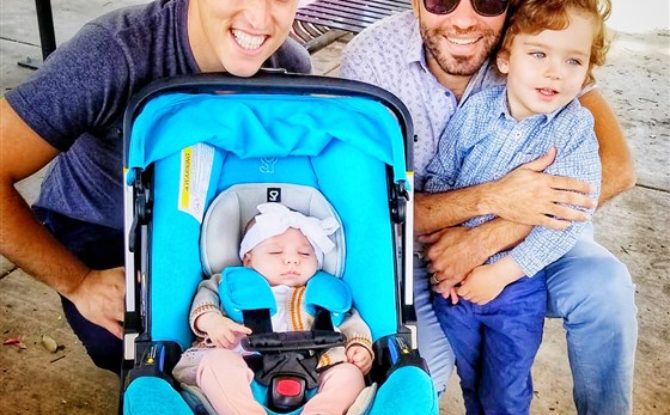 Gay married couple sues after daughter denied U.S. citizenship
The Maryland couple's infant daughter was born in Canada to a surrogate mother earlier this year.
A gay married couple in Maryland is suing to challenge the State Department's refusal to recognize the U.S. citizenship of their infant daughter, who was born in Canada to a surrogate mother this year.
The federal lawsuit, filed Thursday, says a State Department policy unlawfully treats the children of married same-sex couples as if they were born out of wedlock.
The plaintiffs, Roee and Adiel Kiviti, had their first child, Lev, in 2016; he was born in Canada via surrogacy and has had U.S. citizenship since birth. However, their second child, Kessem, was born in 2019, after the Trump administration began enforcing the Immigration and Nationality Act's provision that children born "out of wedlock" do not automatically obtain U.S. citizenship.
The State Department's application team has in several cases categorized the children of same-sex couples that use fertility services, like sperm donors and surrogacy, as born "out of wedlock." An attorney for the Kiviti family says their suit is at least the fourth such case to challenge the policy.
Immigration Equality, an LGBTQ immigration advocacy group, is leading the court effort to gain birthright citizenship for these children. The organization is working with the Kivitis and the other three known families suing the State Department for the same reason: Andrew and Elad Dvash-Banks; Allison Blixt and Stefania Zaccari; and Derek Mize and Jonathan Gregg.
NBCNews.com by The Associated Press and Tim Fitzsimmons, Septemeber 12, 2019
Click here to read the entire article.

Who am I? On the deepest level, I am blessed. I have an amazing partner, who I have known since 1989 and been married to since 2004. I am the donor dad of two beautiful daughters who have two moms who are equally amazing. My husband and I have expanded our family through surrogacy and have a seven-year old son. I have had three careers (acting, massage therapy and the law) and I am still discovering myself. I am the Board Chair of Men Having Babies. The one thing I know for sure is that life is about trusting your instincts. Family is an instinct.

Latest posts by Anthony Brown (see all)