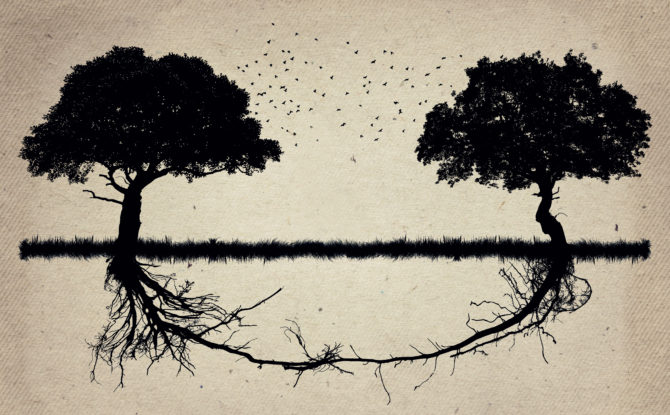 I Got Gay Married. I Got Gay Divorced. I Regret Both.
In 2008, gay marriage was so new, my wife and I had a hard time finding a lawyer to help us legally join our lives together.
In 2013, gay divorce was so new, I had a hard time finding a lawyer to take our marriage apart.
We fell in love in the '90s, when getting legally married wasn't something two women could do. We danced in the streets on May 15, 2008, when the California Supreme Court ruled that "an individual's sexual orientation — like a person's race or gender — does not constitute a legitimate basis upon which to deny or withhold legal rights."
And we decided to tie the knot ourselves the day before Election Day that year, when it suddenly seemed that California Proposition 8 was going to pass, banning same-sex marriage again.
Beneath an arbor of grimy plastic ivy at the Alameda County Clerk-Recorder's Office, we wept grateful tears as we swore to "love, honor, and keep each other, in sickness and in health, as long as we both shall live."
Twenty-four hours later, Prop 8 did pass, changing the marital status of 18,000 same-sex California couples from "married" to "who knows?"
Also unknown: why the happiest day of our life together was one of our last happy days. Why nothing we tried — individual and marriage therapy, romantic vacations, trial separations — could fix us.
In 2013 I Googled "gay divorce lawyer" and found only "gay family law" attorneys. I called the one with the best Yelp reviews.
"I need to file for d — " The word caught in my throat.
In many cities over many years, my wife and I had marched for marriage equality. We'd argued with the haters and we'd argued with the gay people who said that legal marriage would co-opt us, diminish us, turn us into a caricature of "normal" married people. We swore we could enjoy the rights only marriage conferred and still have our gender-fluid commitment ceremonies, our chosen-family configurations, our dexterity at turning friends into lovers and vice versa.
Divorce felt like more than a betrayal of my wedding vows. It was a betrayal of my people and our cause.
"Yours won't be my first gay divorce," the lawyer told me, "and I guarantee you, it won't be my last."
I asked how long it would take, and what it would cost. He couldn't give me even a ballpark estimate. The laws were in such flux, he said, that both gay people who wanted to marry and gay people who wanted to divorce were twisting in the shifting winds.
When the lawyer and I had our first, $350-an-hour conversation, same-sex marriage was outlawed in 37 states and legal in 13 (and the District of Columbia). Change was the only constant, and each change increased the time (his) and money (mine) it cost to research its implications.


My case had a bonus complication. In 1999, before real marriage was available to us, my wife and I had registered as California domestic partners. Did we need a separate legal process to end that partnership? No one was sure.
I mailed the lawyer a big deposit. He emailed me a big stack of documents. On the first page, there it was: my wife's name, right next to mine. The thrill of that triumph, of being a gay person with the legal recognition of a straight person, ran through me as it always had. Then I remembered that I was seeing it for the last time.
As the process unfolded over the next several months, I couldn't help comparing my second divorce with my first, in 1983, from the father of my kids. That's the one that should have been complicated. Like most straight married couples, my husband and I owned our stuff jointly — one bank account, two cars, one ranch house and everything in it. Most wrenchingly, we had two little boys whom neither of us could imagine living without for even a day. Yet our divorce, our property division and our custody agreement were all ironed out in a few meetings with a paralegal, whose services cost less than $1,000.
Like most early same-sex-marriage adopters, my wife and I had intermingled our hearts and lives but kept our finances and property separate. And yet I was in for a much longer, costlier contest.
On June 26, 2013, the Supreme Court nullified the Defense of Marriage Act, granting federal benefits to all current same-sex marriages. Six months, dozens of notarized documents and many thousands of dollars into the process of getting divorced, because we hadn't yet officially filed, my soon-to-be ex-wife and I were more married than ever.
New York Times – January 7, 2017 – by Meredith Maran
Click here to read the entire article.

Who am I? On the deepest level, I am blessed. I have an amazing partner, who I have known since 1989 and been married to since 2004. I am the donor dad of two beautiful daughters who have two moms who are equally amazing. My husband and I have expanded our family through surrogacy and have a seven-year old son. I have had three careers (acting, massage therapy and the law) and I am still discovering myself. I am the Board Chair of Men Having Babies. The one thing I know for sure is that life is about trusting your instincts. Family is an instinct.

Latest posts by Anthony Brown (see all)