How to teach … LGBT history month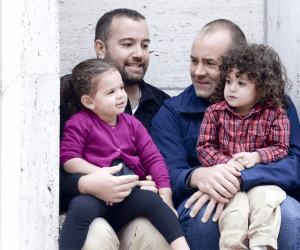 Primary
Addressing feelings of "otherness" is key in discussions of LGBT rights. This poster from Stonewall gives your class a visual representation of the many different kinds of family set-up. The simple animated images show a variety of families, along with the slogan "Different Families, Same Love".
The charity has also put together a film called FREE, which follows the lives of four children as they experience family and friendship, and work out what it means to be yourself (including the quote: "when you're strong enough to be yourself, you free everyone"). The accompanying activity pack includes tasks that ask pupils to write a letter, song or poem and analyse stereotypical statements about gender and identity, such as "girls should play with dolls".
The Guardian
February 18, 2016
 Click
here
to read the entire article.

Who am I? On the deepest level, I am blessed. I have an amazing partner, who I have known since 1989 and been married to since 2004. I am the donor dad of two beautiful daughters who have two moms who are equally amazing. My husband and I have expanded our family through surrogacy and have a seven-year old son. I have had three careers (acting, massage therapy and the law) and I am still discovering myself. I am the Board Chair of Men Having Babies. The one thing I know for sure is that life is about trusting your instincts. Family is an instinct.

Latest posts by Anthony Brown (see all)