As Surrogacy Surges, New Parents Seek Legal Protections
As more couples turn to surrogates to carry their child, some states are considering further protections for the intended parents, many of whom are gay, by handling custody issues before a child is born.
When Brad Hoylman and his husband wanted to start a family, they looked to a woman nearly 3,000 miles away to carry their child.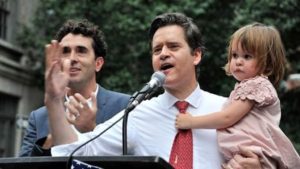 The two Manhattanites turned to a surrogate in California, a state with a robust commercial surrogacy industry, because the practice is banned in New York.
The advent of gay marriage, advances in reproductive technology, and the fact that more people are waiting longer to start families have fueled a surge in the surrogacy industry.
In 2015, 2,807 babies were born through surrogacy in the U.S., up from 738 in 2004, according to the American Society for Reproductive Medicine. Women are often paid at least $30,000 to carry a baby created from the egg and sperm of others.
But in many places, once the baby arrives, outdated state laws fail to answer an important question: Who are the parents?
In many states the law is murky or even silent on surrogacy. The industry is free to operate but the contracts signed between surrogates and intended parents may not be legally binding. The baby may be born in a state that views the woman who gave birth as its mother, even if she has no genetic connection to the child.
The legal uncertainty is particularly concerning to the intended parents, who usually spend about $100,000 (including payments to a surrogate and the company she works with as well as doctors and lawyers) and risk ending up without the child they counted on. Gay male couples have an additional fear: that they might be discriminated against if they are embroiled in a legal fight over custody.
In states that ban commercial surrogacy and those with no laws at all, legislators are pushing bills that would legalize the practice, determine parentage before a child arrives, and ensure that contracts are enforceable and followed by all parties. In many cases, they would require surrogates to be at least 21, to have already given birth to their own children, and to undergo medical and psychiatric evaluations before signing a contract.
Hoylman, a state senator from New York, introduced a bill this year that would legalize surrogacy in his state and establish the legal framework of intended parentage.
Surrogacy became legal in Washington, D.C., in April, and lawmakers in Minnesota and Massachusetts debated bills this year but didn't approve them. In New Jersey, state lawmakers passed similar bills in 2012 and in 2015, but Republican Gov. Chris Christie vetoed them. The Senate passed another bill this week.
Women and Babies as Commodities?
Critics of surrogacy, including both religious conservatives and some feminists, object to what they view as the commodification of both women and children. Opponents point to numerous European countries that have banned the practice and say states should be wary of letting American women be used by others, including foreigners searching for surrogates beyond their borders.
For many, the financial aspect of surrogacy is most troubling.
"Women will be exploited by wealthy people," said Jason Adkins, executive director of Minnesota's Catholic Conference. "We see all kinds of Hollywood stars contracting with surrogates, but we don't see any Hollywood stars serving as surrogates for their nannies and maids."
Surrogacy companies prefer to work with women they consider financially stable in order to avoid women who may be acting out of financial desperation. Medicaid does not cover surrogacy costs, and women who are enrolled in the program would risk losing coverage for themselves and their families if they carry a surrogate baby.
By Rebecca Beitsch, Huffingtonpost.com, june 29, 2017
Click here to read the entire article.

Who am I? On the deepest level, I am blessed. I have an amazing partner, who I have known since 1989 and been married to since 2004. I am the donor dad of two beautiful daughters who have two moms who are equally amazing. My husband and I have expanded our family through surrogacy and have a seven-year old son. I have had three careers (acting, massage therapy and the law) and I am still discovering myself. I am the Board Chair of Men Having Babies. The one thing I know for sure is that life is about trusting your instincts. Family is an instinct.

Latest posts by Anthony Brown (see all)