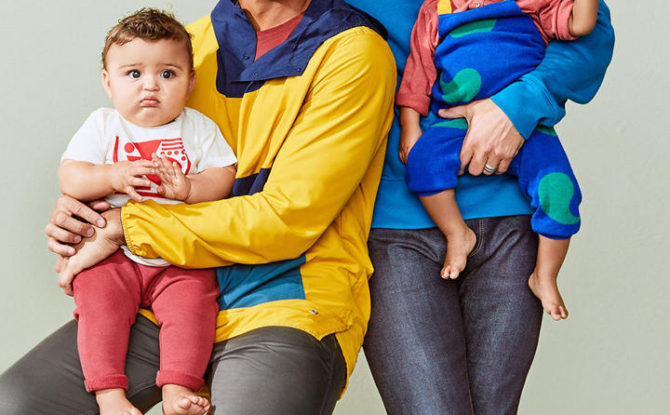 Insanity Founder Shaun T Opens Up about Twin Life After 12 Pregnancy Attempts With 5 Surrogates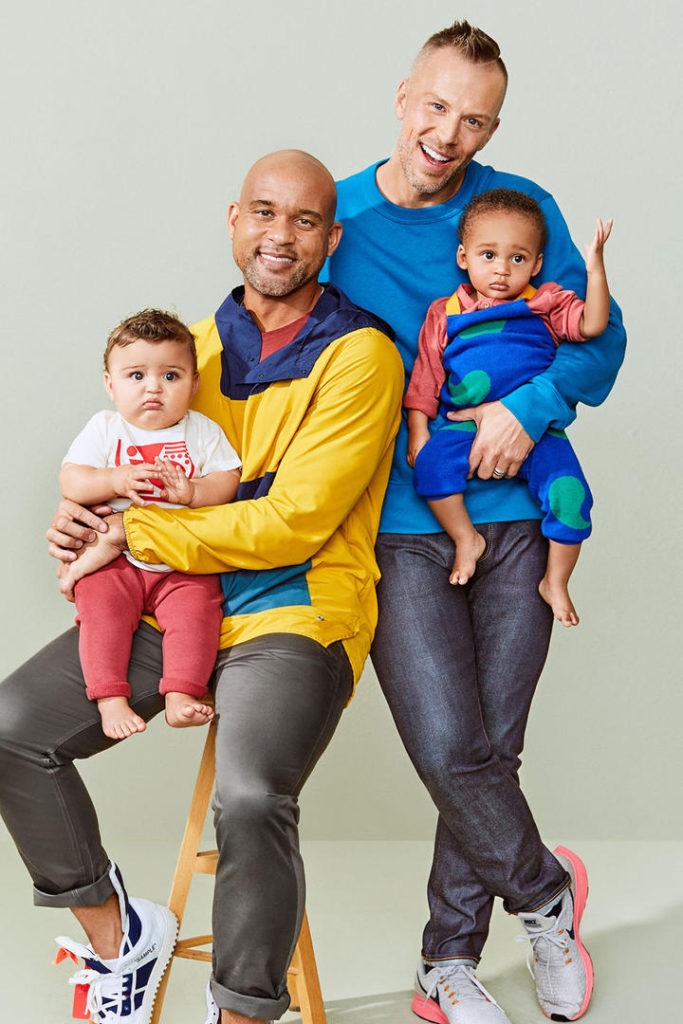 Aside from trying to get the world physically fit, Shaun T and Scott Blokker are raising baby twins. Easy, right?!

Six years ago, fitness trainer Shaun T, creator of the Insanity workout and the new Transform :20 program, was ready to start a family with his husband and business partner, Scott Blokker. But the journey wasn't easy. "We went through all the things that couples struggling with fertility go through: tests, doubt, grief, not knowing, waiting," Scott says.
Twelve attempts, six egg donors, five surrogates, two doctors, one miscarriage, and thousands of dollars later, their two adorable sons, Silas Rhys and Sander Vaughn, arrived. Though they share the same egg donor, Sander is from Shaun's sperm and Silas is from Scott's sperm. Their surrogate delivered them two minutes apart. "Ask all the questions you want," Shaun says when people wonder how the boys came to be. Adds Scott, "It blows my mind how much I've learned."
The boys turned 1 in November, and their dads could not be more proud, especially after all they've been through. The babies were born at 32 weeks and spent the first three weeks in the NICU. "On their last night there, we had no monitors, no nurses, just us," says Shaun. "I remember thinking, 'This will be a piece of cake.' I was so wrong. They cried nonstop!"
Well, guys, welcome to parenthood! Scott and Shaun speak of the first four months of parenting twins as an almost comically dark time in their lives. "It was terrible," says Shaun, laughing. "We got into more fights than we'd ever had in our entire relationship." Scott adds, "I even questioned whether we'd ruined our marriage by having kids, but it wasn't the kids. It was the not sleeping!"
Two preemies meant both parents doing every feeding around the clock. "No more than two hours of sleep at a time for weeks in a row is killer," says Scott. Meanwhile, Sander wouldn't eat, or if he did, he'd spit up. "We felt bad, but at 3 a.m. it was, 'Okay, who wants Sander?' " Shaun says.
Eventually, the babies started to sleep through the night, and so did Shaun and Scott. Like magic, conflicts abated. They divided and conquered. Scott says he's the family manager, while Shaun is the cruise director. "I do all the planning—babysitters, shopping, doctors—and Shaun brings the fun."

Who am I? On the deepest level, I am blessed. I have an amazing partner, who I have known since 1989 and been married to since 2004. I am the donor dad of two beautiful daughters who have two moms who are equally amazing. My husband and I have expanded our family through surrogacy and have a seven-year old son. I have had three careers (acting, massage therapy and the law) and I am still discovering myself. I am the Board Chair of Men Having Babies. The one thing I know for sure is that life is about trusting your instincts. Family is an instinct.

Latest posts by Anthony Brown (see all)