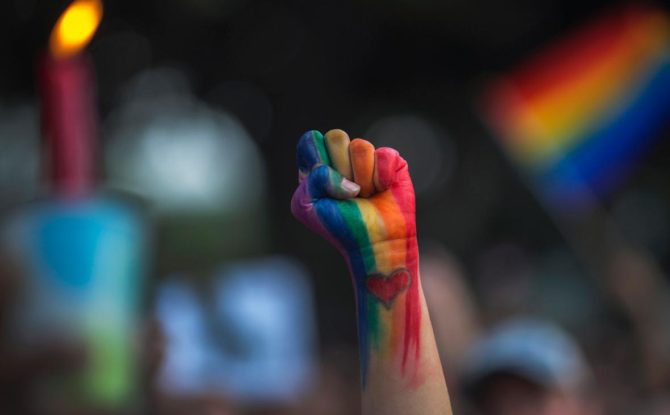 Kansas bill seeks to define same-sex marriage as 'parody'

Kansas state representatives introduced legislation Wednesday that would define same-sex marriage as "parody marriage" and would prohibit the state from recognizing same-sex marriages or transgender people.
The bill seeks to establish an "elevated marriage" for straight couples, according to the Wichita Eagle.
The legislation would also allow controversial gay "conversion therapy" which seeks to change a gay person's sexual orientation. Critics of conversion therapy say it is often inhumane and does not work.
Two bills were introduced, one that says same-sex marriages "erode community standards of decency." It argues that civil rights for gay people are different than civil rights for black people because it claims that there are "no ex-blacks but there are thousands of ex-gays."
The measures would also prohibit public schools and libraries from hosting or endorsing "drag queen storytime."
The legislation has very little chance of becoming law, according to the Eagle. The state's Democratic governor is supportive of gay marriage and is likely to veto the bill if it passes the state legislature.
In an interview with the Eagle, the bill's sponsor state Rep. Randy Garber (R) admitted that the language in the legislation is "kind of harsh."
"Their marriage probably doesn't affect me — their union or whatever you want to call it," he said. "But in my opinion, they're trying to force their beliefs on society."
BY RACHEL FRAZIN – 02/14/19 – TheHill.com
Click here to read the entire article.

Who am I? On the deepest level, I am blessed. I have an amazing partner, who I have known since 1989 and been married to since 2004. I am the donor dad of two beautiful daughters who have two moms who are equally amazing. My husband and I have expanded our family through surrogacy and have a seven-year old son. I have had three careers (acting, massage therapy and the law) and I am still discovering myself. I am the Board Chair of Men Having Babies. The one thing I know for sure is that life is about trusting your instincts. Family is an instinct.

Latest posts by Anthony Brown (see all)