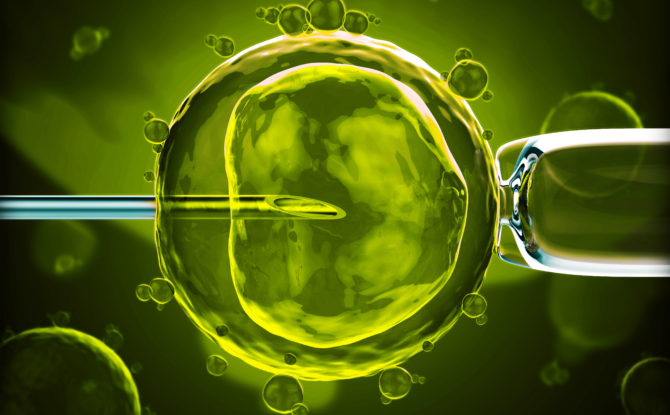 Let's set the record straight: There's nothing wrong with surrogacy
This past December, Arizona Congressman Trent Franks resigned from office after asking two aides to be pregnant through surrogacy for him and his wife, reportedly offering one aide $5 million in return. According to reports, the women were concerned the congressman wanted to impregnate them through sexual intercourse.
The story went viral, causing confusion and stigma about one of the most life-changing medical advancements in history: the ability for females with prohibitive medical conditions, gay male couples, and parents of all ages to have biological children through surrogacy.
When it comes to fertility care, misinformation runs rampant. As fertility doctors, we'd like to set the record straight.
Surrogacy does not involve sexual intercourse
There are two main types of surrogacy: traditional and gestational. Traditional surrogacy means the female carrying the pregnancy (the surrogate) is using her own eggs. Different methods such as placing sperm in a uterus to help with fertilization (called intra-uterine insemination, or IUI) can be used to inseminate her with sperm from a male, who is often the intended parent. In this case, the surrogate is the biological mother. Gestational surrogacy, on the other hand, is when an embryo, which has been created using someone else's egg and sperm, is transferred to a surrogate. The female carrying the pregnancy (the surrogate) is not biologically related to the child she is carrying.
Traditional surrogacy involves the insemination of the surrogate with sperm. Gestational surrogacy involves the implantation of an embryo. Neither requires sexual intercourse.
Surrogacy costs average $150,000, not $5 million
While pricey, surrogacy costs nothing close to the reported $5 million Congressman Franks offered his staffer. The average cost of surrogacy ranges from $100,000 to $200,000, depending on the fertility clinic used, number of IVF rounds, prenatal care, travel expenses, compensation for the surrogate, and additional medical and legal fees. These costs are mostly out-of-pocket and are prohibitively expensive for many people.
Facebook and Apple offer world-class fertility benefits that include surrogacy packages, but the tech firm juggernauts are in the minority. Most companies do not offer comprehensive fertility benefits that provide equal access to all employees. Unfortunately, far too many people still have to take out loans, borrow money from friends and family, raise money on crowdfunding sites, or forgo surrogacy altogether because of the high price point.
Surrogates undergo strict screening
It's not easy to become a surrogate. Candidates go through a strict medical evaluation process before being approved as a carrier, including psychological screening, genetic screening, STD testing, and evaluations with reproductive specialists and a therapist. The American Society of Reproductive Medicine has recommended guidelines for gestational surrogates.
Being approved is just the first step. As the surrogate prepares for an embryo transfer, she may take hormones daily. For gestational surrogacy, the intended mother or egg donor takes injectable medications to aid in retrieving eggs that will be fertilized to become embryos. The embryo is then ready to be transferred to a surrogate. And of course, once pregnant, surrogates attend routine prenatal visits and take on the burden of any pregnancy-related complications.
Surrogacy is widely legal, but laws do vary
The legal landscape around surrogacy is often confusing, with laws varying between states and constantly changing. Though it's widely regulated and legal throughout the majority of the country, most people are surprised to learn surrogacy is still illegal in some places in the United States Unfortunately, the complicated legal landscape can make access to this important aspect of fertility care more difficult.
TheHill.com, January 3, 2018 BY DR. ASIMA AHMAD AND DR. AMANDA ADELEYE
Click here to read the entire article.

Who am I? On the deepest level, I am blessed. I have an amazing partner, who I have known since 1989 and been married to since 2004. I am the donor dad of two beautiful daughters who have two moms who are equally amazing. My husband and I have expanded our family through surrogacy and have a seven-year old son. I have had three careers (acting, massage therapy and the law) and I am still discovering myself. I am the Board Chair of Men Having Babies. The one thing I know for sure is that life is about trusting your instincts. Family is an instinct.

Latest posts by Anthony Brown (see all)