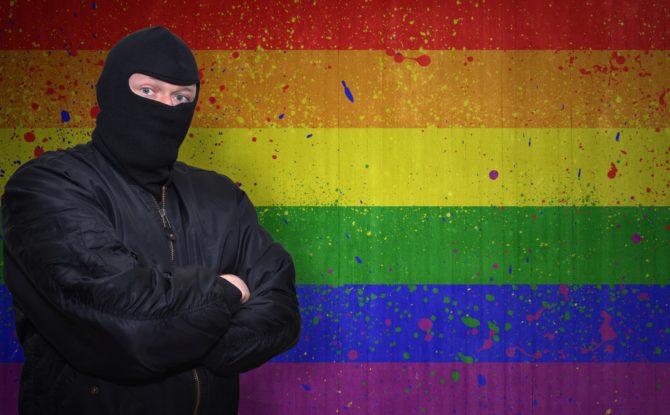 A man tortured in Chechnya for being gay dares to go public with his story
For the first time since gruesome accounts of the systematic detention and torture of gay men began leaking out of Russia's republic of Chechnya, a young man has gone public with his story.
Maxim Lapunov, 30, told reporters on Monday that he was demanding justice from the Russian government for the 12 days he spent locked in a blood-soaked jail cell, led out daily with a plastic bag over his head to be beaten by police officers demanding he confess to being gay.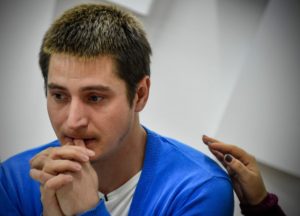 Human rights activists and journalists say that up to 100 people, mainly young gay men, were caught up in what has been called a "gay pogrom" carried out by Chechen police and officials earlier this year. Chechen leader Ramzan Kadyrov has denied the campaign of violence, saying that Chechnya "has no gays."
Lapunov, who moved to Chechnya in 2015 and made a living as an entertainer, said he was selling balloons in March near a mall in Grozny, Chechnya's capital, when he was detained by plainclothes police officers and forced into a car. He was driven to a police station.
"The charge was that I am gay," Lapunov, dressed in a white T-shirt and blue cardigan, told reporters on Monday in a news conference at the Novaya Gazeta newspaper, which has published several explosive reports on the alleged torture of gay men in Chechnya.
When he refused a confession, he was led into a jail cell soaked with fresh blood, where he could hear "screams and groans" coming from somewhere in the bowels of the police station. Officers placed a plastic bag over his head with just a hole to breathe through, led him to an interrogation room, and forced his face against a wall and beat his "legs, hips, buttocks, back," he said. "They would stop briefly just to let me breathe. They made me get up when I was falling, and it went on and on."
"I thought they would kill me no matter what happened," he said, wiping away tears.
Lapunov, who is ethnically Russian, is the first person to make a formal complaint to Russia's powerful Investigative Committee challenging a government narrative that the "gay pogrom" in Chechnya never existed because no victims have come forward. Tanya Lokshina, the local head for Human Rights Watch, said that ethnic Chechen victims have been resistant to go public because of fear of retribution by their families.
by Andrew Roth – Washington Post, October 16, 2017
Click here to read the entire article.

Who am I? On the deepest level, I am blessed. I have an amazing partner, who I have known since 1989 and been married to since 2004. I am the donor dad of two beautiful daughters who have two moms who are equally amazing. My husband and I have expanded our family through surrogacy and have a seven-year old son. I have had three careers (acting, massage therapy and the law) and I am still discovering myself. I am the Board Chair of Men Having Babies. The one thing I know for sure is that life is about trusting your instincts. Family is an instinct.

Latest posts by Anthony Brown (see all)