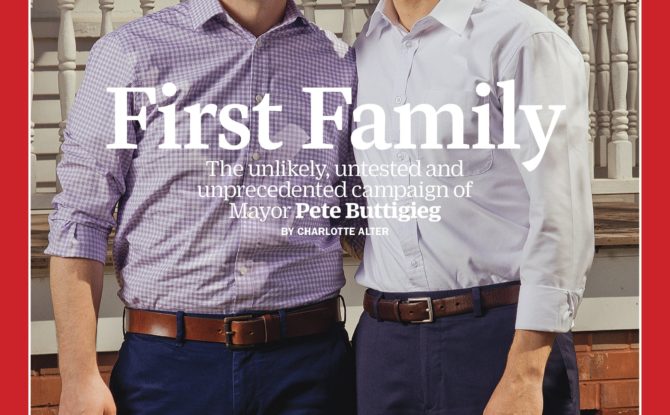 Mayor Pete Buttigieg – An Unlikely, Untested, Unprecedented Presidential Campaign
As Pete Buttigieg addressed supporters off a back porch in Marshalltown, Iowa, the Devil was whispering his name. "Pete," the Devil hissed into a microphone. "You're sooo smart, Pete."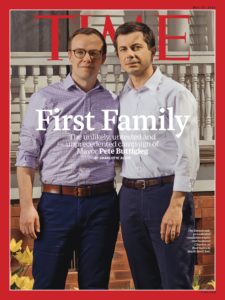 Pete Buttigieg ignored the heckler, plowing forward with his stump speech about American decency as his husband Chasten looked on. "Pete," the Devil whispered. "I want the heartland, Pete."
The man in the devil costume was Randall Terry, an antiabortion activist. He had traveled to Iowa to torment the 37-year-old mayor of South Bend, Ind., the early breakout star of the 2020 Democratic presidential primary. "There's never been a poster boy for homo­sexuals" before, Terry says. "There's never been a homosexual that you'd go, 'Wow, I'd be proud of him.' He's the guy. That's why he's such a threat."
Four years after the U.S. Supreme Court affirmed his right to marry, Buttigieg has become the first openly gay person to make a serious bid for the presidency. And Terry is hardly the only right-winger worried about the rise of "Mayor Pete." Buttigieg's saying that "God doesn't have a political party" prompted evangelical leader Franklin Graham to tweet that being gay is "something to be repentant of, not something to be flaunted, praised or politicized." Concerned by the campaign's rise, right-wing provocateur Jacob Wohl was recently caught trying to fabricate sexual-­assault allegations against Buttigieg to slow him down.
But to some Americans, Buttigieg may just be the man to vanquish America's demons. In a field of more than 20 candidates­—including six Senators, four Congressmen, two governors and a former Vice President—Buttigieg (pronounced Boot-edge-edge) has vaulted from near total obscurity toward the front of the Democratic pack, running ahead of or even with more established candidates and behind only Joe Biden and Bernie Sanders.
Buttigieg is a gay Episcopalian veteran in a party torn between identity politics and heartland appeals. He's also a fresh face in a year when millennials are poised to become the largest eligible voting bloc. Many Democrats are hungry for generational change, and the two front runners are more than twice his age.
Time.com, by Charlotte Alter, May 2, 2019
Click here to read the entire article.

Who am I? On the deepest level, I am blessed. I have an amazing partner, who I have known since 1989 and been married to since 2004. I am the donor dad of two beautiful daughters who have two moms who are equally amazing. My husband and I have expanded our family through surrogacy and have a seven-year old son. I have had three careers (acting, massage therapy and the law) and I am still discovering myself. I am the Board Chair of Men Having Babies. The one thing I know for sure is that life is about trusting your instincts. Family is an instinct.

Latest posts by Anthony Brown (see all)