Meet the Soon-to-Be 1st Trans Parents in South America
LGBT activist Diane Rodriguez and her boyfriend Fernando Machado are an Ecuadorian couple who are set to become South America's first-known transgender parents. They recently announced their pregnancy which has received much support for the couple.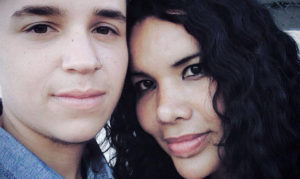 Rodriguez wrote in a Facebook post: "I'm going to be a mum, my boyfriend Fernando Machado is pregnant with me. After having spoken with my family, people who are very close to my life and social environment, I wish to make public one of the news that I think is the most important in my life and that of my partner, Fernando Machado."
She added that she understood that the announcement would receive comments in favor and against the happy news, however, she believes the news is important for society to change and is something wonderful for her and her boyfriend to celebrate: "But as an activist and transsexual woman committed to a process of profound social transformation , I believe that public opinion must know this wonderful news : Fernando Machado and Diane Rodriguez will be mom and dad."
Click here to read the entire article.
thenextfamily.com By Alex Temblador

Who am I? On the deepest level, I am blessed. I have an amazing partner, who I have known since 1989 and been married to since 2004. I am the donor dad of two beautiful daughters who have two moms who are equally amazing. My husband and I have expanded our family through surrogacy and have a seven-year old son. I have had three careers (acting, massage therapy and the law) and I am still discovering myself. I am the Board Chair of Men Having Babies. The one thing I know for sure is that life is about trusting your instincts. Family is an instinct.

Latest posts by Anthony Brown (see all)