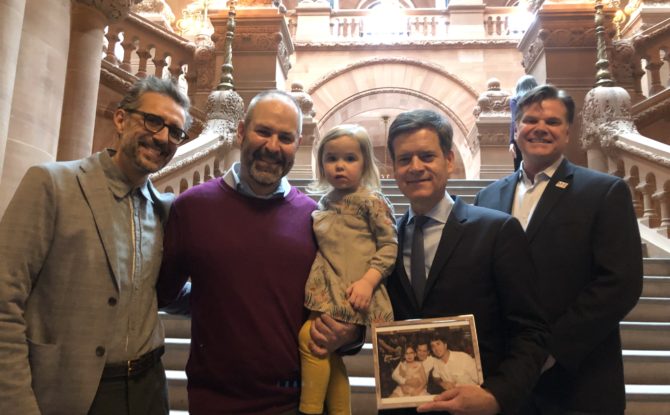 'Men Having Babies' to Make Case for New York Surrogacy Reform
New York Surrogacy Reform – Come this Friday to hear how Men Having Babies and other advocates plan to pass surrogacy reform in NY.
Since it's very first meeting in the form of a 2005 support group for biological gay dads and dads-to-be, Men Having Babies (MHB) has been advocating and educating folks on surrogacy. This has taken place in the form of many elements including conferences for those considering surrogacy, their Gay Parenting Assistance Program which helps fund many gay men undertaking the expensive surrogacy journey to fatherhood, and their extensive directory and review system on surrogacy agencies and clinics.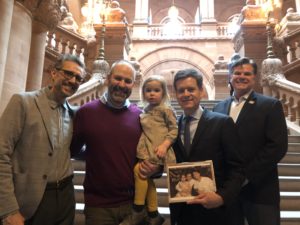 MHB has recently moved further to make their conferences a meeting place for committed surrogacy and gay parenting supporters, including parents, surrogates, researchers, professionals, and policymakers by creating the Advocacy and Research Forum for Surrogacy and LGBT Parenting (ARF). The New York surrogacy reform program is part of this effort. The program provides opportunities for formal and facilitated discussions about topics and developments relevant to parenting through surrogacy and / or by LGBT parents.
Now, in the aftermath of the stalled Child Parent Security Act (the CPSA bill), which was set to reverse the ban on compensated surrogacy in the state of New York, Men Having Babies have gone a step further. As part of the ARF initiative, this Friday November 8 in New York City, Men Having Babies welcomes folks to join them at an open to the public event: The Case for NY Surrogacy Reform. [with the link]
As part of the ARF initiative, this Friday November 8 in New York City, Men Having Babies welcomes folks to join them at an open to the public event: The Case for NY Surrogacy Reform.
"While we think it is the most comprehensive and thoughtful surrogacy legislation ever drafted, the CPSA also faced criticism and claims that not enough discussion has taken place about ethical concerns," said Ron Poole-Dayan, the Executive Director of Men Having Babies. His response, along with others, was to create Friday's event and "to offer historical and international perspectives on this debate, a review of relevant research findings, and a thorough analysis on how we think the proposed surrogacy legislation addresses core ethical issues and essential best practices,"
For the event this Friday in New York City, Men Having Babies has partnered with RESOLVE: The National Infertility Association, Family Equality Council, Stonewall Democrats of NYC, The Academy of Adoption and Assisted Reproduction Attorneys, and Equality NY among others. Together, they're assembling more than 30 speakers, and their goal is to contribute to an informed public debate on the issue, and bring in "a wide range of perspectives from surrogates, their young adult children, children born through surrogacy, academic researchers, representatives of national community organizations and international human rights organizations, and legal, mental health and medical experts."
Organizers are inviting lawmakers, community activists, professionals, academicians, students, parents and prospective parents to listen and offer feedback. More than 100 already registered.
The Senate passed the CPSA earlier this year, and it is likely to come up for a vote in the Assembly later this legislative season.
Gayswithkids.com, November 6, 2019
Click here to read the entire article.

Who am I? On the deepest level, I am blessed. I have an amazing partner, who I have known since 1989 and been married to since 2004. I am the donor dad of two beautiful daughters who have two moms who are equally amazing. My husband and I have expanded our family through surrogacy and have a seven-year old son. I have had three careers (acting, massage therapy and the law) and I am still discovering myself. I am the Board Chair of Men Having Babies. The one thing I know for sure is that life is about trusting your instincts. Family is an instinct.

Latest posts by Anthony Brown (see all)