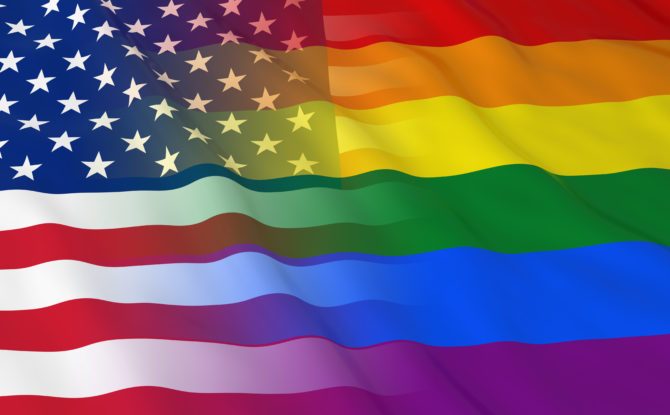 Did National Park Service Disrespect the Rainbow Flag?
A ceremony dedicating a rainbow flag flying near New York City's Stonewall Inn went off today with some controversy over the National Park Service's participation — or lack thereof.
The bar is known for the series of uprisings against police raids in 1969, a reaction that helped birth the modern LGBT rights movement. An area near the nightclub was designated a National Monument, under Park Service management, by President Barack Obama in 2016, reflecting the site's historic significance. The Stonewall itself remains a working bar under private ownership.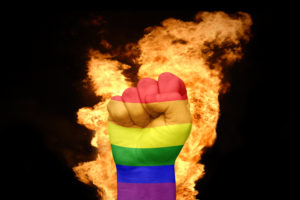 The rainbow flag, symbolizing LGBT pride, went up September 28, and the dedication ceremony was scheduled for today, which is National Coming Out Day as well as the 30th anniversary of the 1987 March on Washington for Lesbian and Gay Rights. The Park Service was set to take part in the ceremony, along with several LGBT activists, but pulled out as the day approached, drawing criticism from organizers.
Newsweek ran an article about the dedication last week, and it included quotes from some organizers denouncing the anti-LGBT actions of Donald Trump and his administration. By Friday night, a National Park Service flag flying alongside the rainbow flag had been removed and replaced with a New York City Parks flag, organizer Ken Kidd told The Washington Post. Then Barbara Applebaum, the Park Service official who was to speak at the ceremony, canceled.
"Since planning began this past summer, the NPS had been wholly cooperative," Kidd said in a press release. "This abrupt turnaround as well as the NPS distancing itself from this event is more evidence of the Trump administration's campaign to reduce LGBT people to second-class American citizens. It's no coincidence that this comes on the heels of Attorney General [Jeff] Sessions's support of religious rights over LGBT civil rights."
A Park Service official, however, said the issue was whether the flagpole was on city property or NPS property. Jon Laird, commissioner of the National Parks of New York Harbor, told the Postthe NPS determined that the pole was on city land, not the area that constitutes the park. "We did send mixed signals here, which was very unfortunate," he told the paper. "It became a much bigger deal than we ever expected."
Applebaum ended up changing her schedule so she could attend the ceremony, and Laird was there as well. He offered to speak, but organizers turned him away. "We said, no, you will not speak," longtime activist Ann Northrop, who emceed the ceremony, told the Post. "This is completely just mean-spirited bigotry on their part, to find a technicality to pull out of what they had already agreed upon and worked on for a week."
Laird denied that bigotry was involved and said no officials in Washington had raised concerns about the flag dedication, according to the Post. The rainbow flag, he emphasized, has never been taken down, and the NPS has donated it to the city. "It's still up, it's still flying there," Laird said of the flag. "Visitors to Stonewall National Monument will see it, and 99 percent of them will not care if it's on our property or [the city's] property."
Advocate.com, October 11, 2017
Click here to read the entire article.

Who am I? On the deepest level, I am blessed. I have an amazing partner, who I have known since 1989 and been married to since 2004. I am the donor dad of two beautiful daughters who have two moms who are equally amazing. My husband and I have expanded our family through surrogacy and have a seven-year old son. I have had three careers (acting, massage therapy and the law) and I am still discovering myself. I am the Board Chair of Men Having Babies. The one thing I know for sure is that life is about trusting your instincts. Family is an instinct.

Latest posts by Anthony Brown (see all)