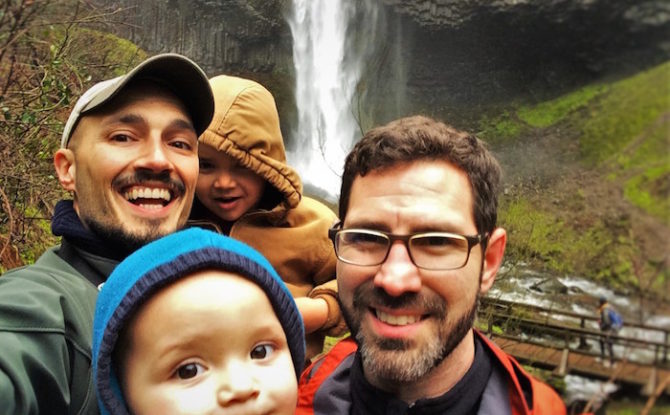 Rob and Chris: 2 Travel Dads, Two Travel Kids
"We had kids to spend time with them," says Rob Taylor. "To show them the world, teach them and see how they respond to things — it's really fascinating to see how their little brains work." – Travel Dads
Calling the forests of Suquamish, Washington, home, Rob and his husband Chris run the popular 2TravelDads blog, and are hailed by The Huffington Post as one of the "world's top male travel bloggers." Tales of adventure with sons "Panda", 4½-years-old, and 14-month-old "Koala" (codenamed for privacy) to Mexico, Napa, and even across Puget Sound to Seattle, Rob and Chris not only paint vivid pictures of destinations perfect for kids, but sprinkle in a few kernels of wisdom on how to travel with charges so young.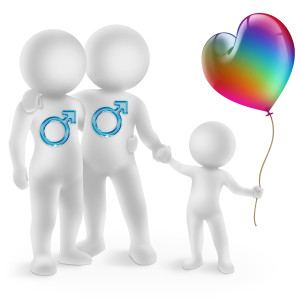 Planes, Trains, and Automobiles
Together for 11 years and consummate travelers before fatherhood, Rob and Chris were determined to give their kids the travel bug. Conventional wisdom dictates once children are in the picture, the freewheeling lifestyle of footloose parents must radically change to something more rooted and sedentary. Not so, says Rob.
"There's no reason to change how we live and travel," he adds. "You just keep on going and keep on having fun so they keep on having fun. With our oldest, we took him on his first flight when he was around 5 months old, and he has the cutest little passport picture. With our youngest, he was 2 months old when he went on his first flight."
Parents may balk at the idea of globetrotting with young children, but Rob extols the virtue of getting kids in the air, on the road, or over the waves as soon and as often as possible. The logic is straightforward: the sooner the child learns how to travel, the sooner travel becomes that much easier. Judicious use of iPads, Yahtzee and the Endless Series family of educational games also makes for an easier commute, and with his kids, Rob has traveled only between Canada, the United States, and Mexico so far. With regards to air travel, Panda and Koala are never in a plane for more than six hours. Another tip: always use your own car seat even if airlines or ships offer one; you know the settings and your children are used to it.
Click here to read the entire story.
via gayswithkids.com – April 21, 2016

Who am I? On the deepest level, I am blessed. I have an amazing partner, who I have known since 1989 and been married to since 2004. I am the donor dad of two beautiful daughters who have two moms who are equally amazing. My husband and I have expanded our family through surrogacy and have a seven-year old son. I have had three careers (acting, massage therapy and the law) and I am still discovering myself. I am the Board Chair of Men Having Babies. The one thing I know for sure is that life is about trusting your instincts. Family is an instinct.

Latest posts by Anthony Brown (see all)