SCOTUS same-sex marriage ruling has allowed kids to have 2 legal parents, more stable homes and futures
When gay marriage became the law of the land last summer, Lin Quenzer and Barbara Baier were one of numerous gay couples in Nebraska eager to wed.
However, after 27 years together, a wedding cake and a marriage certificate weren't their top priority. It was their son. They needed to wed to ensure their teenager would be legally bound to both parents for a lifetime and beyond — from every form that required a parental signature to each woman's last will and testament.
After their summer wedding, the couple's attorney immediately began drawing up adoption papers. A little over three months later, Robert Quenzer-Baier, then 15, was legally recognized as Quenzer's son.
"He cried, we cried. We took pictures. It just meant the world to him. … He said 'Nothing can take us apart now,' " recalled Quenzer, who is the Lincoln city ombudsman.
It was exactly a year ago today that the U.S. Supreme Court issued its historic same-sex marriage ruling, known as Obergefell v. Hodges. The ruling ended decades of debate and one of the biggest culture wars in America. It gave every gay couple in all 50 states the right to walk down the aisle.
But, as Quenzer's adoption proceeding showed, the ruling had implications far beyond marriage. One of its greatest impacts was on the children of same-sex couples, many of whom were legally tied to only one parent because states such as Nebraska prohibited unmarried couples from adopting a child together.
Nebraska was one of the 13 states that did not allow gay marriage when the high court ruling came down. It had been legalized in the nation's other states through a patchwork of court or legislative actions. In neighboring Iowa, for example, gay marriage had been legal since 2009 because of an Iowa Supreme Court decision.
On the day of the ruling, some Nebraska couples rushed to their local county clerk's offices to secure marriage licenses. For a few days, gay marriage ceremonies were a novelty on the wedding circuit.
Some people continue to oppose such unions. But for many people — especially among the nation's younger generation — same-sex marriages have become an accepted fact of life.
It is hard to know exactly how many same-sex couples married in the wake of the court ruling. States like Nebraska do not keep statistics for gay or straight marriages.
In Douglas County, workers in the County Clerk's Office kept track of the number of same-sex unions for about the first six months. After that, they stopped.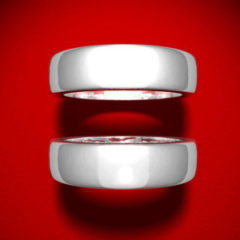 "It's kind of amazing that, once it happened, it's really just like any other couple," said County Clerk Dan Esch. No one in his office even bats an eye these days.
However, Esch and his staff did go back and come up with a tally in anticipation of today's anniversary. Over the past year, through June 13, the county had issued 173 same-sex marriage licenses — just a fraction of the nearly 4,000 marriage licenses issued overall in Douglas County during that time period.
Nationwide it is estimated there have been 123,000 same-sex marriages since the ruling, according to a Gallup survey.
Last year's court decision hasn't ended the nation's culture wars, of course. But today's battles are more about what's happening in bathrooms and bakeries than in bedrooms and courthouses.
Laws have been introduced over the past year that would, among other things, compel transgender people to use the bathroom that conforms with their gender at birth or protect bakers from having to make a cake for a same-sex union.
"The fight to preserve religious liberty is the first critical battle of the post-Obergefell era," according to a report filed this past week by the Family Leader, an Iowa organization that opposes same-sex marriage.
The gay community sees the baker and bathroom debates as "manufactured" fights so that anti-gay groups can remain relevant, now that the high court has settled the marriage debate. "It's the last gasp of the dying beast. They're grabbing for things," said Donna Red Wing, executive director of One Iowa, an LGBT rights advocacy organization in Iowa.
As with same-sex marriage statistics, it is hard to know exactly how many children have been adopted by same-sex couples since the ruling. Adoptions are done by individual courts, which do not keep track.
However, several lawyers in Nebraska said they have worked with same-sex couples eager to adopt their son or daughter in the wake of the U.S. Supreme Court ruling.
"I've personally worked on eight to 10 step-parent adoptions, where the same-sex spouse has been able to adopt children who for all intents and purposes was that person's child," said Susan Sapp, a Lincoln attorney. "They were very relieved. Whether you agree or disagree with the marriage decision, there were existing families where children didn't have legal stability."
In states such as Nebraska, these families that were created with the help of sperm donors, single-parent adoption or other procreation routes were in legal limbo. The state did not allow non-married couples to adopt children. Given the state's ban on same-sex marriages, that policy was essentially a ban on gay adoptions as well.
That meant that children of these unions did not have all the same protections afforded to other children. In the event of a parent's death, the child was not legally viewed as an heir to the non-legal parent. And the non-legal parent had no inherent right to the child. In the event of a separation, one parent could deny — or attempt to deny — visitation to the other. Or one of the two parents could walk away without being responsible for child support.
There were few legal guarantees afforded to such families.
June 26, 2016
By Robynn Tysver / World-Herald staff writer – Omaha.com
Click here to read the entire article.

Who am I? On the deepest level, I am blessed. I have an amazing partner, who I have known since 1989 and been married to since 2004. I am the donor dad of two beautiful daughters who have two moms who are equally amazing. My husband and I have expanded our family through surrogacy and have a seven-year old son. I have had three careers (acting, massage therapy and the law) and I am still discovering myself. I am the Board Chair of Men Having Babies. The one thing I know for sure is that life is about trusting your instincts. Family is an instinct.

Latest posts by Anthony Brown (see all)