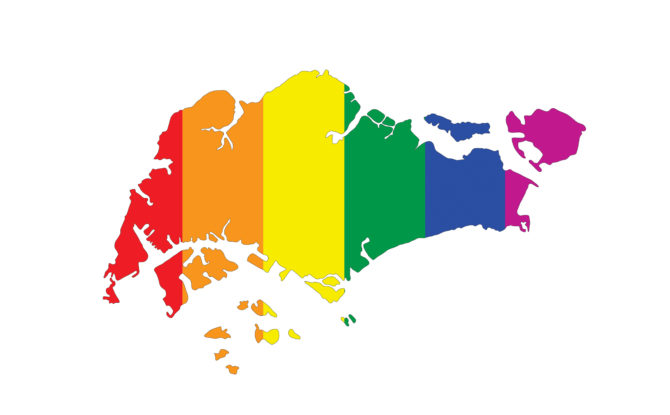 Singapore allows same-sex fathers to adopt their surrogate son
In a landmark decision, Singapore's highest court has allowed a gay couple to adopt their son, who was conceived through surrogacy in the United States.
The case began in December 2014 when fathers "James" and "Shawn" applied for James – whose sperm was used for the assisted reproduction – to adopt their son, "Noel", hoping to remove the stigma of illegitimacy. Their real names have not been disclosed.
James and Shawn, who heard the news at 10.25am through their lawyers, were elated. They had gone to work as usual, despite knowing the judgment would be released on Monday morning.
"It was business as usual because we didn't want to get our hopes too high," said James, who is a doctor.

Shawn works in the marketing industry. Both men are 45, of Chinese ethnicity, and are Singaporeans. The men have been in a relationship for 13 years, living together since 2003.
James said the family was happy and relieved that the Court of Appeal has allowed the adoption of Noel.
"The fight to raise our family in Singapore has been a long and difficult journey," he said. "We hope that the adoption will increase the chances of our son to be able to stay in Singapore with his family. His grandparents and us really want Singapore to be the home of our family. Our family will celebrate this significant milestone."His grandparents and us really want Singapore to be the home of our family. Our family will celebrate this significant milestoneJames, father
The process was treated as single-parent adoption and will confer to James sole parental rights and responsibility for the child. Both fathers hoped this will make it easier for Noel, now four years old, to acquire Singapore citizenship. The South China Morning Post in January reported on the family's legal limbo. Noel had been rejected for citizenship and at the time the fathers applied for his adoption, Noel was on a dependent's pass that has since been renewed every six months.
Last year, the couple had their bid rejected by the Family Justice Courts one day after Christmas, although District Judge Shobha Nair said Noel would be provided for, with or without an adoption order.

By Kok Xinghui, TheStar.com, December 17, 2018
Click here to read the entire article.

Who am I? On the deepest level, I am blessed. I have an amazing partner, who I have known since 1989 and been married to since 2004. I am the donor dad of two beautiful daughters who have two moms who are equally amazing. My husband and I have expanded our family through surrogacy and have a seven-year old son. I have had three careers (acting, massage therapy and the law) and I am still discovering myself. I am the Board Chair of Men Having Babies. The one thing I know for sure is that life is about trusting your instincts. Family is an instinct.

Latest posts by Anthony Brown (see all)