Is there marital presumption for male couples in New York? Recent case law suggests that we are heading in that direction.
Is there marital presumption for male couples in New York? Up until now, there has been no clear guidance on this. While certain NY jurisdictions have held that the marital presumption of parentage exists for lesbian couples, male couples who have their children with the assistance of a surrogate mother, or gestational carrier, have not had specific judicial input… until now.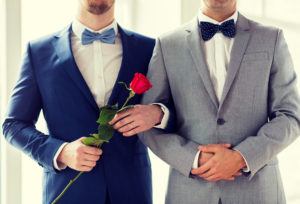 Before I discuss the details of the case, entitled In re Maria Irene D., it is important to understand the judicial reach it has and the implications of that for couples throughout New York State. This case originates from an appeal made from a New York County Family Court decision granting a second parent adoption. That appeal was heard in the Appellate Division, First Department, which hears appeals from cases in New York County and the Bronx only. Therefore, until appealed to the New York Court of Appeals (our highest court), it only creates precedent for the Bronx and New York Counties. Other NY counties may cite the case as a reference, but are not bound by its findings.
In re Maria Irene D. involves a child born in September 2014 to a gay couple, Marco and Ming. Marco and Ming entered into a civil union in the UK in 2008 and converted that to a marriage in 2015. Their daughter was born with the help of a surrogate mother who gave birth in Missouri. Because both fathers were British citizens, and due to the law in the UK surrounding the legality of surrogacy, the couple obtained a parentage order in Missouri that terminated the rights of both the surrogate mother and egg donor and awarded Marco, the genetic father, "sole and exclusive" custody of the child. In many cases, a pre or post birth order will list both intended parents as legal parents, but because the couple planned to secure UK citizenship for the child at some point after her birth, the parentage order could only list the genetic father.
Marco and Ming, along with their daughter, moved back to Florida, where they had been living, and stayed there as a family until October of 2015. At some point after the birth of the child, Marco began a relationship with a man named Carlos and his relationship with Ming failed. Ming had moved back to the UK in October of 2015 to find employment. Carlos filed a petition of adoption with the New York County Family Court in January of 2016 and the petition was granted in May of 2016.
Adoption petitions ask one very important question, whether the child is subject to any proceeding affecting his or her custody or status. In this matter, Carlos and Marco failed to disclose that, at the time of the child's birth, both Marco and Ming had signed the surrogacy agreement together as a married couple. Also, Ming had started a divorce proceeding seeking joint custody of the child prior to the finalization of the adoption. Carlos and Marco failed to disclose that to the court as well.
The court held that there were two important reasons for overturning the adoption granted by the New York County family Court to Carlos: that Ming and Marco were considered legally married by the court at the time the time they began their surrogacy journey and at the time of the birth of the child. Their daughter was, essentially, born in wedlock; therefore, Ming was entitled to notice of the adoption proceedings. The court also faulted Carlos and Marco for failing to disclose the relevant information that there was a court proceeding filed by Ming in Florida that affected the custody of the child.
So does the marital presumption for male couples in New York protect a separated parent from losing custody of their child? In this case, yes. What we do not know is whether the fact that Carlos and Marco's failure to disclose vital information in their adoption petition was the driving factor in the court's decision, or whether it was the marriage of Marco and Ming.
With this information, male couples in NY may be struggling with whether to secure their parental relationships through second or step parent adoption. Because the players in this drama were foreign nationals, different rules applied to how parentage was established immediately following the birth of their child. Most US couples who have children through surrogacy can obtain parentage orders that create parentage for both fathers depending on the State where their child is born. This decision is certainly a step in the right direction but married NY couples should also consider step parent adoption as a means to create unassailable parental rights that are portable across the country and around the world. While the second/step parent adoption process is comprehensive and time consuming, it is worth it when you think about how much may be spent defending your right to your child born through surrogacy.
Anthony M. Brown, head of Family and Estates division of Chianese & Reilly Law, PC and has extensive experience in helping same-sex couples through the adoption process, having gone through the process himself. If you have yet to create a legal relationship with your child or children, call 212-953-6447 or email Anthony at Anthony@timeforfamilies.com.
Contact Time For Families