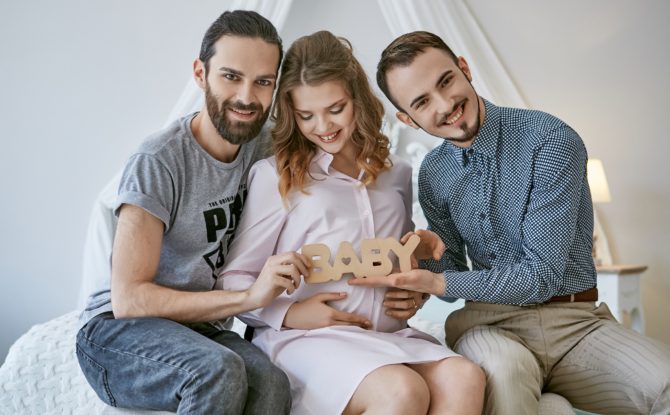 The long wait for legalized surrogacy may soon end in New York

A bill legalizing the practice is backed by the governor, fertility groups and LGBTQ activists, but opposed by some feminists and the Roman Catholic Church.
On a September evening in 2015, six weeks before their twins' due date, Michael and Melissa Musman got an urgent call from the surrogate carrying their children. The babies needed to come out, the surrogate said, and if the Musmans wanted to be there for their birth, they had to come right away.
The Musmans, both 43, live in New York, one of only three states that currently ban paid surrogacy contracts. As a result, residents of the state must look elsewhere if they want to hire a surrogate; the Musmans found theirs in Pennsylvania.
Hoping they could pull off the nearly 400-mile drive from Brooklyn to Pittsburgh in time, they quickly packed a suitcase, made arrangements for someone to watch their older child and started driving.
"We knew there would be a chance that we would not make the birth," said Melissa Musman, a teacher who turned to surrogacy after radiation for tumors in her pelvis and abdomen compromised her fertility. "With Pittsburgh, it's not around the corner."
Still, the couple was hopeful. They were not new to surrogacy. Using an egg donor and Michael Musman's sperm, they had their first child, Sean, via a surrogate in Peoria, Illinois, in October 2008. It took two planes to get to Peoria, but they had made it for his birth.
This time, as they drove through the night, their twins arrived via an emergency Cesarean section in an operating room hundreds of miles away.
Advocates say it's a way of helping infertile and gay couples start families. But commercial surrogacy has a slew of detractors, many of whom say it amounts to women selling their bodies.
For decades, the detractors in New York prevented it from becoming legal. Now, New York is on the brink of changing its policy, with Gov. Andrew Cuomo, a Democrat, publicly declaring his support last weekend for a bill — called the Child-Parent Security Act — that would remove the ban. Cuomo also included the bill in his state budget proposal.
New York's long-held resistance stems from a tumultuous surrogacy battle in neighboring New Jersey, known as the Baby M case. In 1985, a woman who was struggling financially, Mary Beth Whitehead, agreed to be a surrogate and be inseminated with sperm from William Stern, a man whose wife had multiple sclerosis, for $10,000.
by Elizabeth Chuck, NBCNews.com, February 7, 2019
Click here to read the entire article.

Who am I? On the deepest level, I am blessed. I have an amazing partner, who I have known since 1989 and been married to since 2004. I am the donor dad of two beautiful daughters who have two moms who are equally amazing. My husband and I have expanded our family through surrogacy and have a seven-year old son. I have had three careers (acting, massage therapy and the law) and I am still discovering myself. I am the Board Chair of Men Having Babies. The one thing I know for sure is that life is about trusting your instincts. Family is an instinct.

Latest posts by Anthony Brown (see all)