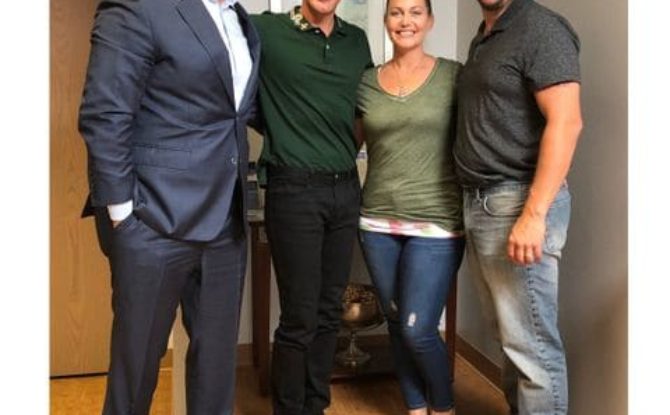 They were gay and wanted a baby. She loved being pregnant. They made a deal.
Christina Fenn and her husband, Brian, have driven an hour and a half to this quaint coffee shop in Monroe, Conn. Fenn sips her morning latte, skittishly glancing out the window at the parking lot. "I'm nervous," she says, grabbing her husband's arm. "Nervous-excited, though." He smiles back.
She's wearing green, her lucky color. Green shirt and green jacket, green bracelets, green socks. She feels as if she needs all the luck she can get today.
"They're here," her husband says, standing to greet two men walking toward them.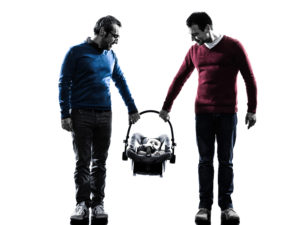 Bill Johnson and Kraig Wiedenfeld have been a couple for 18 years and married for four. Everyone embraces warmly.
They're an unlikely foursome: two gay men from the Upper East Side of New York and a small-town husband and wife who met when they both were 20 at a Dunkin' Donuts.
By lunchtime, if all goes as planned, Christina Fenn will be pregnant with Johnson and Wiedenfeld's son. An embryo created from Wiedenfeld's sperm and an egg from an anonymous donor will be thawed and transferred into Fenn's uterus, and she will be considered "PUPO" — pregnant until proven otherwise.
"Let's go have a baby!" says Wiedenfeld. They all smile nervously.
The couples drive in separate cars to CT Fertility, a clinic five minutes down the road.
This isn't Fenn's first time at the clinic. She has proudly carried three babies — including a set of twins — as a surrogate for two other same-sex couples. She heads to Exam Room 3, while Johnson and Wiedenfeld go to a waiting area until it's time for the transfer.
"You have a beautiful embryo hatching," says CT Fertility physician Melvin Thornton, sitting down with the dads-to-be.
by Sydney Page, Washington Post – September 8, 2018
Click here to read the entire article.

Who am I? On the deepest level, I am blessed. I have an amazing partner, who I have known since 1989 and been married to since 2004. I am the donor dad of two beautiful daughters who have two moms who are equally amazing. My husband and I have expanded our family through surrogacy and have a seven-year old son. I have had three careers (acting, massage therapy and the law) and I am still discovering myself. I am the Board Chair of Men Having Babies. The one thing I know for sure is that life is about trusting your instincts. Family is an instinct.

Latest posts by Anthony Brown (see all)