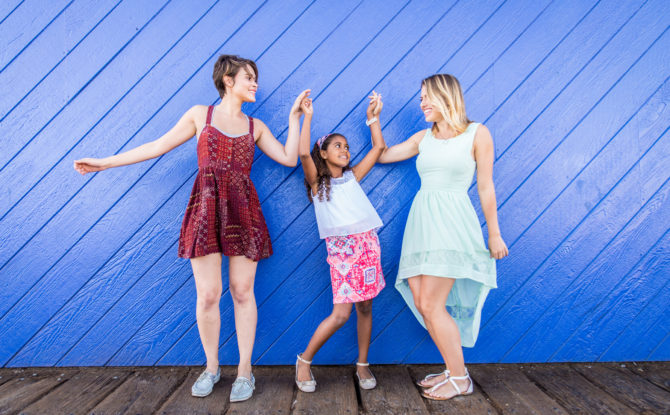 Why Do I Have To Adopt My Own Daughter?
This Pride, I'll be marching for my daughter, who isn't securely mine without adoption.
This year's Pride Parade will be different. On June 25th, LGBT New Yorkers and their straight allies will congregate in the streets of Manhattan with an urgency the city hasn't seen since the 80s AIDS crisis or the Stonewall Riots in 1969, which galvanized the modern day Gay Rights Movement. Tens of thousands will stomp down Fifth Avenue protesting the Trump Administration's sustained efforts to roll back—way back—LGBT progress. I'll be joining them, but mostly I'll be marching for my daughter Marty, who, it turns out, isn't securely mine without an adoption.
Since taking office in January, Trump has rejected proposed changes to include LGBT-related questions on the U.S. Census; he erased a page dedicated to LGBT Rights from the White House's official website; he rescinded the guidelines Obama put forth allowing trans students to use the bathrooms that correspond with their gender expression; and he partially revoked an Obama-era executive order compelling federal contractors to demonstrate their compliance with anti-discrimination directives.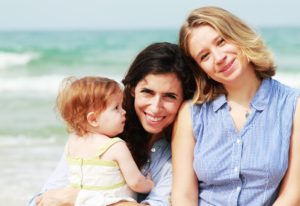 Although I thought Marty was already mine in no uncertain terms, a few months ago, while researching estate planning attorneys, my spouse Sabrina and I discovered just how tenuous my relationship to Marty could be without a second-parent adoption. Despite the fact that she was born within my marriage, that my name is on her birth certificate, that we live in New York, one of the most progressive states in the country, and that our marriage is recognized by the federal government, every major LGBT advocacy group strongly advises me—and every other non-gestational parent—to complete a second-parent adoption to protect our family from potential legal consequences. And it will cost, at best, a whopping$4,000.
Neglecting to adopt Marty could have shattering consequences: If we ever visit or live in a state where family law is not settled on questions surrounding the legal status of non-biological parents, or one that continues to challenge marital equality, or another country that doesn't recognize same-sex marriage, my parentage could be disputed by a medical or school administrator. In cases of life or death, and the need for immediate decision-making authority, that could be especially devastating.
According to Anthony M. Brown, an LGBT family law attorney in New York City, it's not just news to me. "Gay couples are often surprised and indignant by the necessity of second-parent adoption because they believe we've already fought and won this battle," he says. "But the battle is still playing out in family courts around the country and world."
"Emboldened legislatures," he adds, "are attempting to whittle away at marriage rights through parentage issues." Arkansas and Indiana, for examples, refuse to allow non-biological parents in same-sex marriages to appear on their children's birth certificates. And a judge in Kentucky thinks he can recuse himself from gay adoptions because, he says, "under no circumstance would '… the best interest of the child … be promoted by adoption …' by a practicing homosexual."
These legal quagmires existed before Trump was elected, but his presence in the Oval Office adds new anxieties for same-sex parents. "In the Trump era," says Cathryn Oakley, a senior legislative counselor at the Human Rights Campaign, "where we see more rhetoric about it being OK to discriminate and Trump giving credence to those who say they should have a religious right to refuse services to same-sex couples, you need to have every possible protection."
by Stephanie Fairyington, Elle .com June 23, 2017
Click here to read the entire article.

Who am I? On the deepest level, I am blessed. I have an amazing partner, who I have known since 1989 and been married to since 2004. I am the donor dad of two beautiful daughters who have two moms who are equally amazing. My husband and I have expanded our family through surrogacy and have a seven-year old son. I have had three careers (acting, massage therapy and the law) and I am still discovering myself. I am the Board Chair of Men Having Babies. The one thing I know for sure is that life is about trusting your instincts. Family is an instinct.

Latest posts by Anthony Brown (see all)