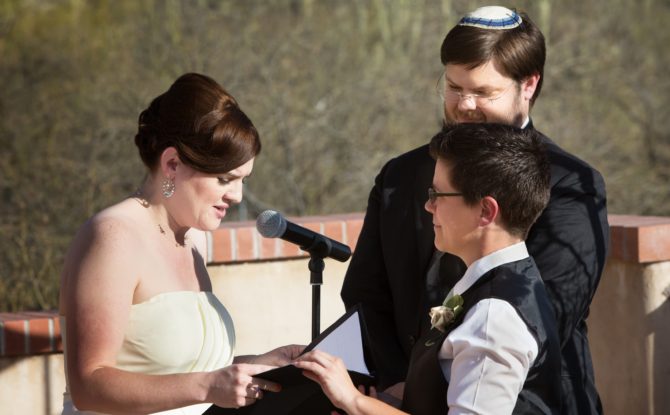 WHY I'M AN ORTHODOX RABBI WHO IS GOING TO OFFICIATE LGBTQ WEDDINGS
Shouldn't our Orthodox communities rush at the opportunity to keep as many Jews, including LGBTQ jews, engaged in their Judaism? Is this the Torah and this its reward?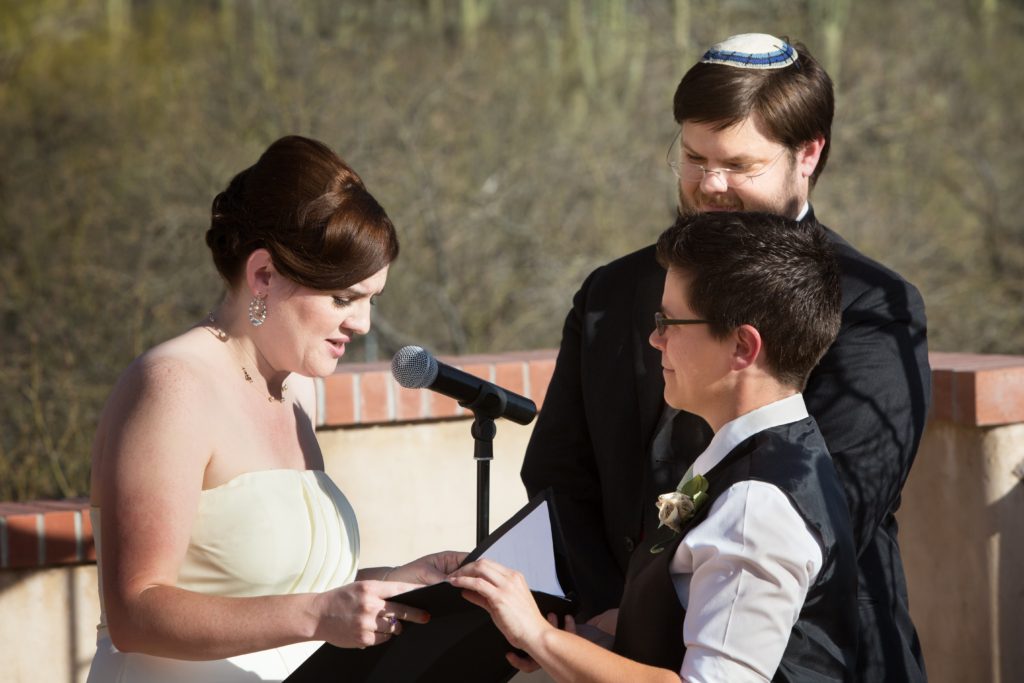 A queer friend of mine from a haredi Orthodox background had posed a query publicly on social media. She had attended a conference on LGBTQ inclusion. There she learned a practice of certain Catholic priests who described going into gay bars in full clerical garb: They would sit in the bar, and when queer Catholics approached them, the priests would affirm God's love and their belonging place in the church.
My friend asked her community of observant Jews, acknowledging that rabbis don't have any identifying clerical garb: When might Orthodox rabbis do the same?
As an Orthodox rabbi myself, I was intrigued. I discovered a rainbow kippah online and decided to purchase it.
It managed to garner attention the first day I wore it. A woman took a picture of me and motioned a thumbs-up. A homeless man on the subway who was begging for money approached, pointing to my kippah, and said, "Now I like that," and bumped my fist. A man in high heels came up to me before getting off his stop and said, "Thanks for the yarmulke." I even had made my way to the headquarters of Chabad Lubavitch that very same day for a meeting and a Hasid asked me where he could find a kippah like mine. I surmised: The kippah works.
But what is it symbolizing and is it enough?
The kippah is a symbol of my commitment to God, to Torah and the Jewish people. To me, the rainbow kippah is also a symbol that God and Judaism love you no matter your sexual orientation.
I understand that the plain reading of Leviticus considers homosexual sex a "toevah," often translated as an abomination. I understand that Jewish law views kiddushin, the ritual ceremony of marriage, as a legal structure between a man and a woman. I know and respect this.
But I also believe that the Torah does not want human beings to live alone, and supports a covenantal relationship between parties as they build a faithful Jewish home. I know that Judaism has, for thousands of years, had a rich understanding of the diversity of gender identities. I know that the Torah affirms the God-endowed dignity of all human beings.
In the recent film "Boy Erased," based off Garrard Conley's memoir describing his experience in a gay conversion program, a scene between a Baptist pastor father and his adult gay son has stayed with me. Conley's character says something along the lines of "I've tried to change, God knows I've tried. I can't change. Now it is your turn."
www.thejerusalempost.com, April 7, 2019 by Avram Mlotek
Click here to read the entire article.

Who am I? On the deepest level, I am blessed. I have an amazing partner, who I have known since 1989 and been married to since 2004. I am the donor dad of two beautiful daughters who have two moms who are equally amazing. My husband and I have expanded our family through surrogacy and have a seven-year old son. I have had three careers (acting, massage therapy and the law) and I am still discovering myself. I am the Board Chair of Men Having Babies. The one thing I know for sure is that life is about trusting your instincts. Family is an instinct.

Latest posts by Anthony Brown (see all)