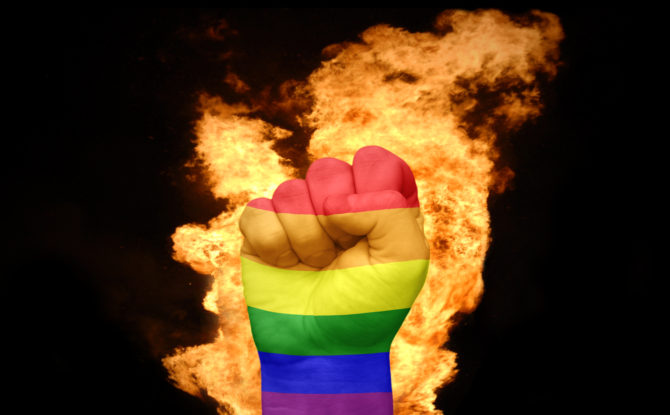 These Are the Worst Anti-LGBT Bills Planned for 2018
From state-level bans on municipalities passing LGBT protections to bills that allow for anti-LGBT discrimination in child services, this homophobia could soon be enshrined in law.
2015 was the year of Indiana's anti-LGBT "religious freedom" law.
2016 was the year of North Carolina's ill-fated "bathroom bill."
2017 was the year when Mississippi's extreme law HB 1523 took effect—a fitting capstone to an already challenging year for LGBT Americans.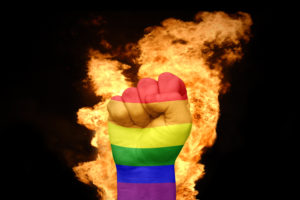 If history repeats itself, 2018 will see another major state-level attack on LGBT people. But after the overreaching and headline-generating legislation of the past three years, a new report from the Human Rights Campaign suggests that we can expect state-level anti-LGBT bills to get narrower in focus, while remaining just as pointed in their intent.
In particular, the HRC's new State Equality Index report warns of a "flurry" of anti-LGBT bills in 2018 that are more "sector-specific" than the "sweeping" bills of years past, focusing on areas like adoption, education, and wedding services. That narrowing of focus is a strategic move, according to HRC State Legislative Director Kate Oakley.
"After the Indiana RFRA in 2015 and HB 2 in North Carolina in 2016, it became harder for states to justify the tremendous amount of blowback that came with these sweeping anti-LGBTQ bills," Oakley told The Daily Beast, adding that those high-profile failures certainly "didn't stop states from trying."
As 2018 state legislative sessions officially get underway, it's becoming clear that some states are still trying—and that some of their efforts could fly under the national radar.
"Iowa, Tennessee, West Virginia, Georgia, and Oklahoma are states that are particularly likely to entertain anti-equality legislation," the HRC report notes.
Proposed anti-LGBT bills in these states ranges from the broadly cruel to the bizarrely specific—and, so far, these bills have primarily been highlighted by local advocacy groups and media outlets.
In Iowa, for example, the state-level LGBT rights organization One Iowa noted in a petition that they expect to see "more efforts to weaken the Iowa Civil Rights Act" during the 2018 legislative session.
by Samantha Allen, The Daily Beast, January 17, 2018
Click here to read the entire article.

Who am I? On the deepest level, I am blessed. I have an amazing partner, who I have known since 1989 and been married to since 2004. I am the donor dad of two beautiful daughters who have two moms who are equally amazing. My husband and I have expanded our family through surrogacy and have a seven-year old son. I have had three careers (acting, massage therapy and the law) and I am still discovering myself. I am the Board Chair of Men Having Babies. The one thing I know for sure is that life is about trusting your instincts. Family is an instinct.

Latest posts by Anthony Brown (see all)