Estate Planning Trust – Does my family need one?
I get this question a lot, "Do I need an Estate planning trust?" The answer differs for every personal and family situation, but there are some critical reasons why an Estate Planning trust may be right for you.
Before understanding when an Estate Planning Trust is appropriate for you, it is important to understand exactly what they are. There are two types of Estate Planning Trusts, revocable and irrevocable, and two ways to create them, either in a Will, a testamentary trust, or as a standalone document.
Revocable Trusts – A revocable trust is executed during the lifetime of the Grantor, the person creating the trust, and is called an intervivos trust. The Grantor often has controlling power over the assets in the trust during his or her lifetime. Revocable trusts are tied to the social security number of the Grantor and provide the Grantor with specific control over the assets contained within the trust, including terminating the trust and transferring any trust assets back to the Grantor. The most common reasons for revocable trusts are to bypass the probate process for passing assets upon the death of the Grantor and to provide for the management of assets that the Grantor may believe that they cannot manage due to illness.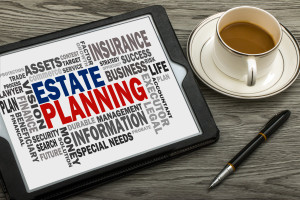 Irrevocable Trusts – An irrevocable trust may be created either during the life of the Grantor, an intervivos trust, or in the Grantor's Last Will and Testament, a testamentary trust. In the case of the latter, the trust becomes irrevocable upon the death of the Grantor. The key difference between a revocable trust and an irrevocable trust is that the Grantor completely surrenders control over any assets contained in an irrevocable trust. Irrevocable trusts also require separate tax ID numbers, and have separate tax filing requirements. Reasons for creating an irrevocable trust include minimizing estate tax charges on assets passing to non-spousal beneficiaries, such as homes (Qualified Personal Residence Trusts – QPRTs) and life insurance proceeds (Irrevocable Life Insurance Trusts – ILITs). The values of assets which pass through irrevocable trusts are not taxable in the Grantor's estate; however, there may be a gift tax event which occurs at the time of the initial transfer of an asset into an irrevocable trust.
Other Reasons for an Estate Planning Trust – For Grantors who own real property in a state other than the state of their domicile, a proceeding called an "ancillary probate" is required. This means that if a person lives in New York and owns real property in Florida, two probate proceedings must be brought: one in New York to pass their New York property and one in Florida to pass the Florida real property. In order to avoid this unnecessary and expensive double probate process, the title to real property in Florida may be transferred into a New York revocable trust. This transfer then negates the need for the Florida probate proceeding. It is critical; however, to actually transfer the title of the Florida property into the New York trust and have that newly transferred title recorded in the appropriate Florida County Clerk's office. Simply creating the trust is not enough.
Children's Trusts – The primary reason why people include an Estate Planning Trust in their Wills, a testamentary trust, is to provide for young children in case something were to happen to both parents before he children reach an age where they can responsibly manage their money. Children's trusts allow parents to name a trustee, or money manager, for the assets which will eventually pass to their children, to provide for unexpected circumstances such as drug or alcohol abuse of a child and to stretch out distributions of principal and interest over a controlled period of time. It is important to note that a Children's trust cannot name a guardian for the person of the child, only for the property of the child. This personal guardianship designation can only be made in a Last Will and Testament.
If I have an Estate Planning trust, do I still need a Will? – In a word, yes! The Estate Planning Trust should be an addition to a person's estate plan, not a substitution for it. To see a list of estate planning basics which all individuals and couples, with or without children, should have, visit TimeForFamilies.com.
When you are considering an Estate Planning Trust, please consider me a resource. For more information the basics for estate planning for gay couples, contact Anthony M. Brown at Time for Families and speak to a specialist family lawyer to secure your and your family's future.
Contact Time For Families

Who am I? On the deepest level, I am blessed. I have an amazing partner, who I have known since 1989 and been married to since 2004. I am the donor dad of two beautiful daughters who have two moms who are equally amazing. My husband and I have expanded our family through surrogacy and have a seven-year old son. I have had three careers (acting, massage therapy and the law) and I am still discovering myself. I am the Board Chair of Men Having Babies. The one thing I know for sure is that life is about trusting your instincts. Family is an instinct.

Latest posts by Anthony Brown (see all)